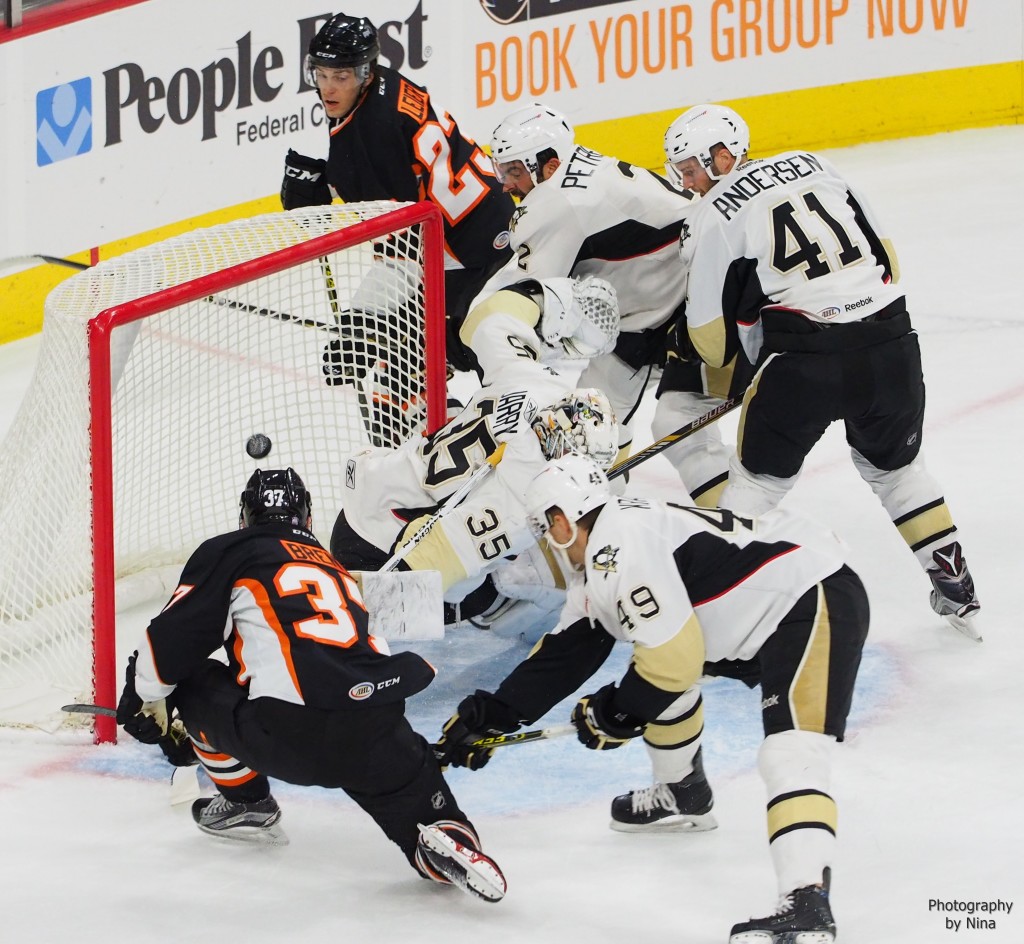 Tim Brent (left, #37) knocks home a rebound past Penguins' goaltender Tristan Jarry in the Phantoms' 4-3 win over Wilkes-Barre/Scranton Sunday in the preseason finale. Regular season kicks off Saturday, October 10th at the PPL Center at 7:05 p.m. ET
The Lehigh Valley Phantoms dropped the first two games of their preseason schedule, but finished the weekend off with a 4-3 win over their rival, the Wilkes-Barre/Scranton Penguins, to head into the start of the 2015-16 American Hockey League (AHL) regular season on a positive note. The Phantoms begin their 2nd AHL season in Allentown on Saturday night, October 10th at the PPL Center against the Syracuse Crunch.
"It's always nice to win games," forward Petr Straka said after Sunday's win over the Penguins. "It's preseason, but still it was the last preseason game – it's going to be the feeling you want going into the regular season. We are going to bring it on Saturday."
The Phantoms begin the season under the direction of a new head coach in Scott Gordon. There are plenty of new faces on the Phantoms' roster this season as well, but they do return leading scorer Nick Cousins and promising prospects Taylor Leier, Robert Hagg and Shayne Gostisbehere.
The Philadelphia Flyers management made it a mission over the summer to not only re-tool the depth of the organization, but add several quality depth players to supplement the young talent they have waiting in the AHL. Guys like forwards Tim Brent, Chris Conner, Colin McDonald and Aaron Palushaj, defenseman Davis Drewiske and goaltender Jason LaBarbera have given the Phantoms a solid group of veterans to help mentor the prospects this season.  The mix of veterans and prospects has the Phantoms optimistic heading into the 2015-16 season.
"It's a new start for everyone in here," Cousins said. "Guys are looking to make a good first impression, get into game action to show their stuff and show what they can do. It's the best time of the year, the most exciting time of the year and everyone is ready to get going this season."
Amidst all the uncertainty of a new head coach and a major roster re-tooling, one thing is certain. The Phantoms need to get off to a good start this fall and avoid missing the Calder Cup Playoffs for the 7th straight season – something that the coaches and players alike are both well aware of.
"We have to get off to a good start," Palushaj said of the upcoming season. "In any league you play in, your first couple games are crucial. It gets you off on a good start, you feel good about your game and build off that."
Head coach Scott Gordon had a little different expectation placed on his team before they begin the season.
"A fast start for any team is crucial. That doesn't change because we haven't made the playoffs in the past," Gordon said. "To me, it's a process. I think the biggest thing is from day one we want to keep getting better until the end of the season and if it works out that we are in the playoffs and moving towards the Calder Cup that's the bonus out of all of it."