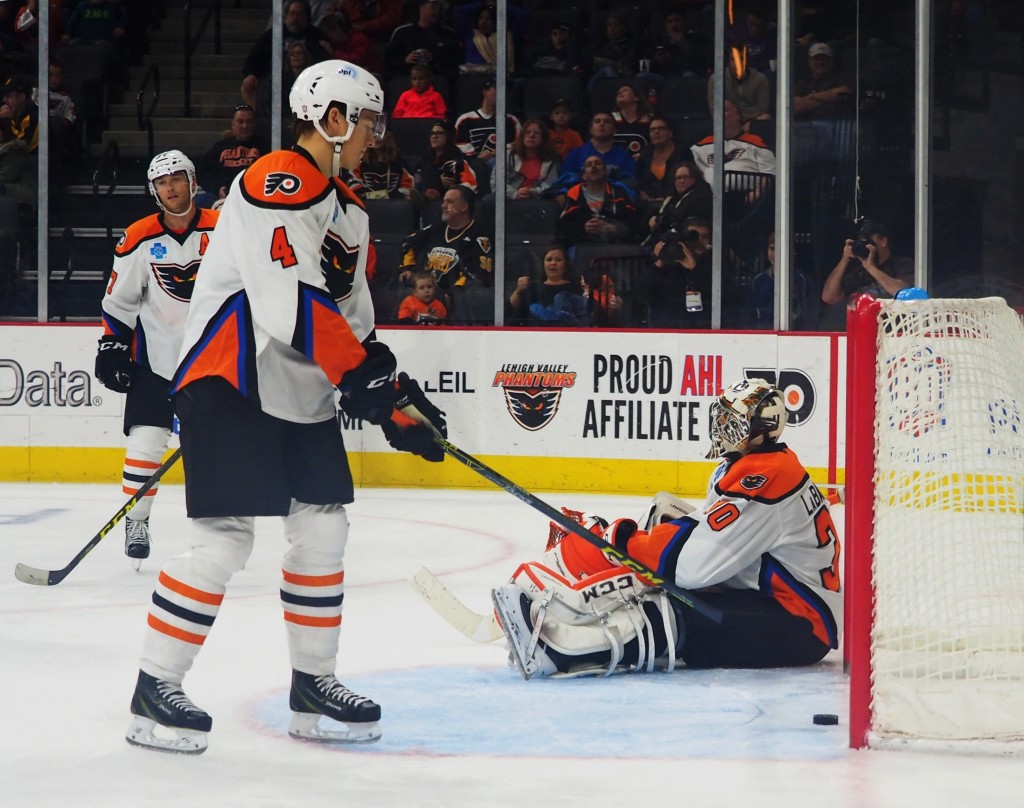 The Phantoms dropped all three games over the weekend, but are getting healthy and looking ahead to three more games this week.
After a good week of practice led the Lehigh Valley Phantoms into a three games in three nights weekend, the team was looking to turn the corner and string some wins together. Three straight losses, however, has the 4-8-0-0 Phantoms hoping to get healthy and back into the win column with three more games – this time on Wednesday, Friday and Saturday – scheduled for this week.
"It's hard to take positives when you lose three straight, but certainly our effort was there," head coach Scott Gordon said after Sunday's loss at home to Binghamton. "For 50 minutes, I thought we had the better of the play. When you look at the 50 minutes of hockey we played up to that point, it didn't feel like a 2-1 game. It felt like we were in control. Give credit to them, they found a way and we didn't."
"The tough part for us right now is that we cannot get a consistent lineup," the Phantoms' first year head coach said about all the injuries. "But as I told the guys after the game, we took huge strides from where we were in the first period [Saturday night]."
The Phantoms are starting to get healthy though.
Defenseman Christian Marti made his North American pro debut on Friday night at home with the Phantoms after a shoulder surgery this summer prevented him from taking part in training camp and the first nine games of the season.
"It's been awhile unfortunately," Marti said. "I didn't plan on having a shoulder surgery when I came here, but it happened. I know nothing should happen [now] and I should play with full confidence."
Defenseman Robert Hagg returned to the lineup on Saturday night in Syracuse after missing eight games due to injury. Forward Cole Bardreau returned to game action on Sunday at home after also missing eight games with an injury.
"It was nice to get out there and try to help some of the guys," Bardreau said via phone on Monday. "Anytime you kind of feel a little more useful instead of just watching from the press box it's a good feeling. We just have to battle through this little rut that we have with the injuries and hopefully we can get on a win streak when everyone gets healthy."
Still, forward and team captain Colin McDonald was lost to injury after the regular season opener on October 10th and a week later forward Michael Parks went down with a long-term upper body injury. Neither player appears close to returning to the lineup for this week's games, but forwards Nick Cousins and Aaron Palushaj – two of the team's top offensively minded scorers – should be nearing a return to the lineup this week, possibly as soon as Wednesday night when the Phantoms rematch the Binghamton Senators on the road up in Binghamton.
"That's the encouraging part," Gordon said of looking ahead to this week's games, adding, "We didn't get the end results, but if we do more of what we did [Sunday night] everything will be alright."