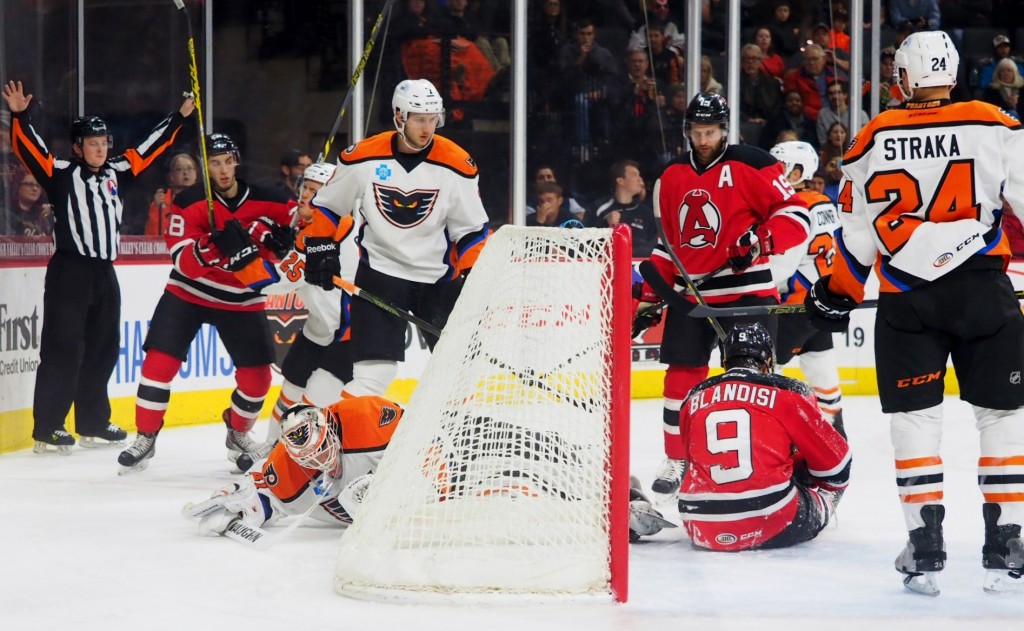 Petr Straka (right) and the Lehigh Valley Phantoms hit the road this weekend. – Photo by Nina Weiss
After a strong week of hockey saw the Lehigh Valley Phantoms go 2-0-1, including two big wins with a total of 14 goals scored, they prepare for their longest road trip of the season – almost two weeks without a home game.
It begins with a three-game weekend in the Northeast, starting Friday night in Providence, Rhode Island before an overnight bus ride to Hartford, Connecticut for a Saturday night match up with the WolfPack. After that game, the team will bus overnight back to Providence for a Sunday afternoon tilt with the Bruins. The four-game road trip concludes next Wednesday with a trip to Utica, New York to face last year's Calder Cup runner up, the Utica Comets.
Forward Petr Straka, who leads the team with 10 goals, sees the time away from the PPL Center as a chance for he and his teammates to draw closer together.
"It's a good opportunity for us to go out to dinner together and do something to get to know each other a little bit better," Straka said after Saturday's 2-1 overtime loss to the Albany Devils, a game which his 3rd period goal forced the extra session.
The three-in-three weekend doesn't give the team too much free time, but that won't keep the team from bonding.
"We're going to be in the hotel together, at the [morning] skates together and hanging out with the boys on the bus together," Straka said of the upcoming weekend getaway. "It's great to get together with the boys and spend some time with them."
The Phantoms saw two of their second year pros called up to the Philadelphia Flyers last weekend as the injury bug has begun to hit the NHL club in November. Defenseman Shayne Gostisbehere and forward Taylor Leier got the promotion, with Leier making his NHL debut Saturday night against the Carolina Hurricanes.
"He's been our best two-way player hands down," Gordon said of Leier. "He's had his opportunities offensively, but I've been impressed with his hockey sense, his commitment to play defense and he's one of our best penalty killers. He deserves it and we were lucky to have him on our team."
While their departure from Lehigh Valley leaves a void, the Phantoms and head coach Scott Gordon are expecting to get two players back for this weekend's games in injured forwards Aaron Palushaj and team-captain Colin McDonald, the latter of which has been injured for the last six weeks with an undisclosed lower body injury.
"If all goes to plan, we should have Aaron and Colin back [for next weekend]," Gordon said in his post-game press conference on Saturday.
The expected return of Palushaj and McDonald certainly adds a veteran presence up front for the Phantoms, something they will need while on the road if they hope to extend their current unbeaten streak of three games.
The Home News will have full coverage of the Phantoms on this weekend's road trip to the Northeast, with live in-game updates on Tony's Twitter page -> @TonyAndrock_TCG as well as exclusive post-game reaction from the players and coaches on the blog, Highland Park Hockey.