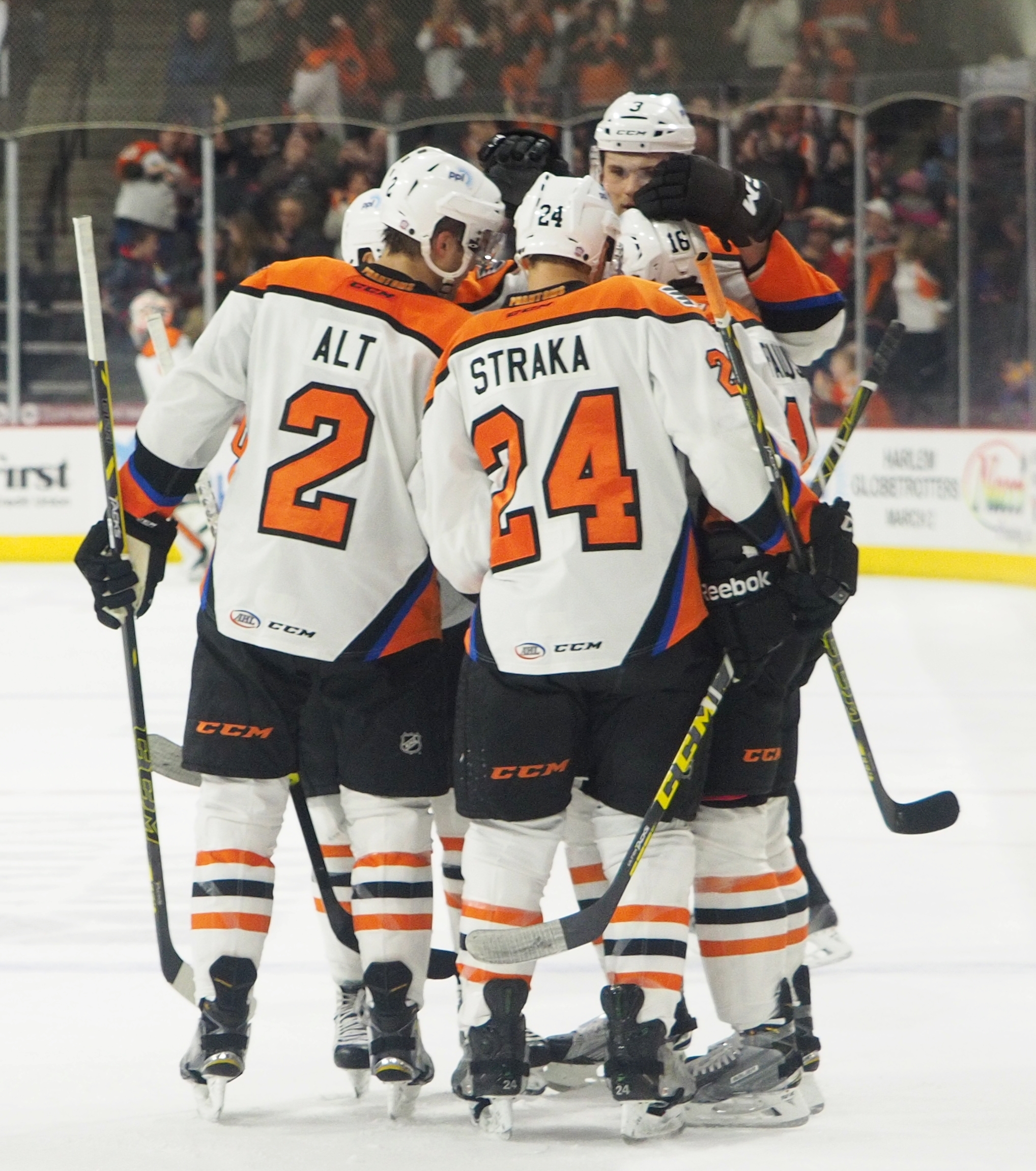 Phantoms making their push toward the postseason with 22 games left to play. -photo by Nina Weiss
The Lehigh Valley Phantoms (25-25-2-2) have 22 games left on their regular season schedule to make up ground in the Atlantic Division standings. Thanks to two wins and a shootout loss last weekend – five out of a possible six points – the Phantoms enter the week only seven points out of the postseason.
After the Phantoms held on for a 2-1 win Friday over Springfield, things were looking grim Saturday night against Bridgeport. Trailing the Sound Tigers 4-2 with less than eight minutes left in regulation, another disappointing loss was inevitable. That was until second year forward Taylor Leier took over control of the game, tallying two goals and forcing overtime. The Phantoms ultimately came up short in the shootout, but earned a valuable point in the standings.
"I think we are a playoff team. I've said that the whole year," Leier said after his two-goal performance sparked the Phantoms comeback. "We've had a lot of games like this where we have been the underdog halfway through the game and we have guys step up throughout the lineup."
The same theme rang true Sunday in Springfield. The Phantoms again found themselves down 4-2 in the final frame. This time, the Phantoms did the nearly unthinkable – tallying three goals in the third period to steal two points in a thrilling 5-4 win capped by a point shot goal from defenseman Mark Alt with 2.8 seconds left in the game.
Newcomer Phil DeSimone has played a pivotal role since joining the Phantoms. He tallied the game-tying goal Sunday with 4:06 left and also made a play at the offensive zone blue line in the waning seconds, keeping a puck alive in the offensive zone that ultimately led to Alt's high-rising shot from the point.
DeSimone is starting to acclimate himself to his new teammates, tallying seven points (three goals, four assists) in his last six games playing alongside Leier (eight goals, 10 assists in his last 13 games) and veteran forward Chris Conner (five goals, 15 assists in his last 13 games).
"We have shown a lot of character in a lot of games," Leier said after Saturday's valiant comeback. "Hopefully we can string together [some wins] here and make a really good push [towards] a playoff spot."
Phantoms Add Forward Depth With Family Ties To Flyers Organization
The Phantoms have signed forward Dalton Smith to a professional tryout contract (PTO). Smith appeared in 17 games (one goal, 24 penalty minutes) with the Providence Bruins earlier this season, with his last appearance coming on January 23rd.
Dalton's father, Derrick Smith, played in 537 NHL games in his career with all but 43 of those coming as a member of the Philadelphia Flyers from 1984 to 1991. The family hockey lineage doesn't stop there either. Smith's uncle, Keith Primeau, played in 909 NHL games including 312 games with the Flyers from 1999 to 2006.
The 23-year-old Smith is in his fourth season of professional hockey and is a former 2010-second round pick of the Columbus Blue Jackets. He brings 215 AHL games of experience (22 goals, 18 assists, 381 penalty minutes) to the Phantoms. Smith been best described as a physical bottom six forward that is hard on the fore-check and strong in the dirty areas of the ice.
Up Next
The Phantoms begin another crucial three-game weekend starting Friday night at PPL Center against the Hartford Wolf Pack. Saturday, they host the Utica Comets. Both games are scheduled to start at 7:05 p.m. ET. On Sunday, Lehigh Valley travels to Hartford, Connecticut to take on the Wolf Pack at 5:00 p.m. ET to conclude the three-game set.
You can follow all the latest Lehigh Valley Phantoms breaking news, in-game updates and much more by following Tony on Twitter -> @TonyAndrock and by visiting his daily online coverage at Highland Park Hockey.