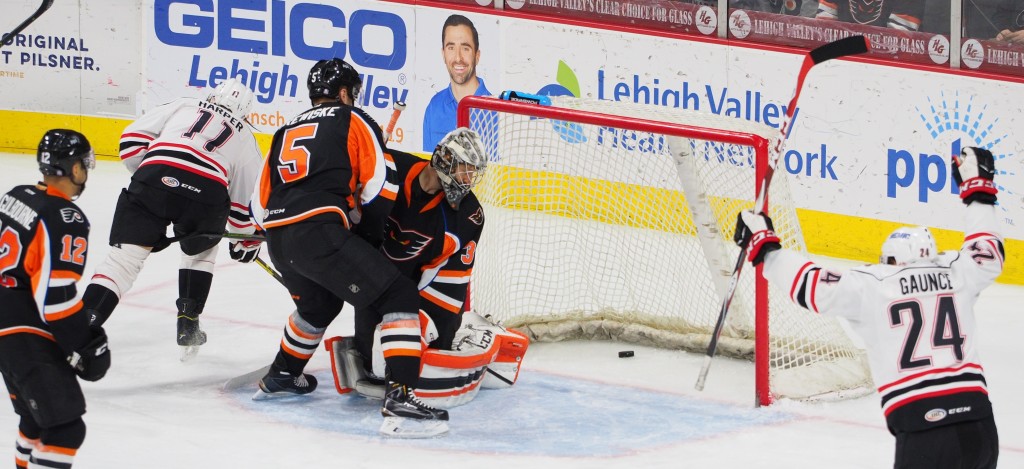 Portland took an early lead on the Phantoms Sunday and never looked back. Photo courtesy Nina Weiss/The Home News
As the clock was winding down in the third period of Sunday's 4-2 loss to the Portland Pirates, the reality that the Lehigh Valley Phantoms' season will probably not be extending past April 17th's regular season finale started to show in the home team's locker room.
"Yeah, I think it's tough sometimes," defenseman Adam Comrie said after Sunday's game – the feeling of yet another disappointing loss fresh on his mind. "But we should band together as brothers and be strong. Come out together and play for each other."
After a disappointing five-game road trip saw the Phantoms extend their season-high winless skid to six games (0-4-2), last Sunday's game against a similarly struggling team in the Pirates at first seemed like a chance for Lehigh Valley to turn things around. Instead, an early 3-0 deficit was too much for the Phantoms to overcome – putting Lehigh Valley further out of reach for playoff contention as the regular season winds down.
"For whatever reason, we have found different ways to lose right now," veteran forward Tim Brent said of the past few weeks.
While nobody was using it as an excuse for their slow start Sunday, a seven hour overnight bus ride home from Toronto Friday night into Saturday morning left the Phantoms drained and off their regular daily routine entering the weekend. The team arrived back in Allentown, Pa. just after sunrise Saturday morning and attempted a few hours of sleep before coming to the rink and getting in a workout. Instead of a pre-game morning skate on Sunday – the normal routine on a game day – the Phantoms players were again attempting to get their sleep schedule back on track before showing up at the rink hours before Sunday's 5:05 p.m. face-off.
"It's playing the game simple, playing in straight lines," Brent added when asked how they can focus for a game after a tough travel schedule. "It's doing things you were taught when you were ten years old."
With only 11 games remaining on their schedule entering the week and 11 points separating the Phantoms from the final playoff spot, Brent asserted that he wasn't mailing it in the last four weeks of the regular season and that his teammates shouldn't either.
"This is professional hockey," he said. "This is how we put food on our table and feed our families. You have to be a professional, and that means coming to the rink ready. It doesn't matter how many games are left or what position we are in, you need to be a professional and show up every night."
Up Next
The Phantoms continue their home stand this week with three games against Atlantic Division opponents at the PPL Center. On Wednesday night, the rival Hershey Bears come to town. The weekend features back-to-back home tilts against the Providence Bruins and Hartford Wolf Pack on Friday and Saturday nights, respectively. All games at the PPL Center this week have a 7:05 p.m. ET scheduled puck drop.
You can follow all the latest Lehigh Valley Phantoms breaking news, in-game updates and much more by following Tony on Twitter -> @TonyAndrock and by visiting his daily online coverage at Highland Park Hockey.