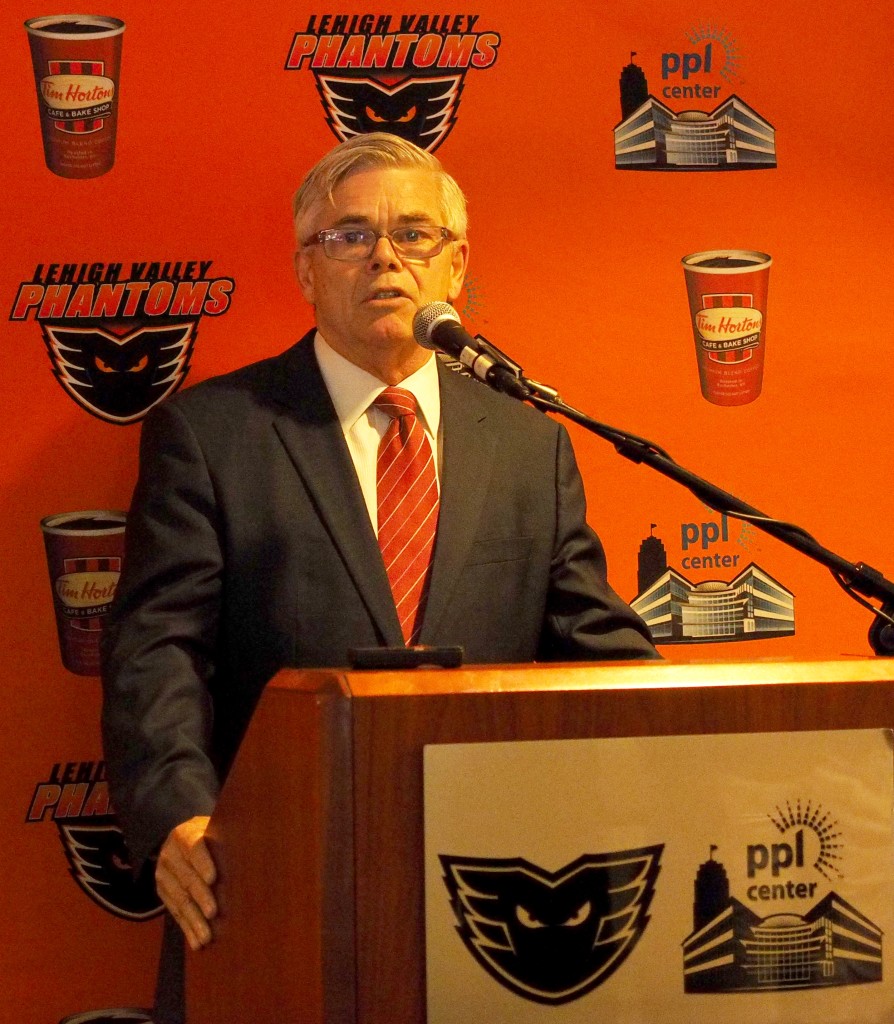 AHL President/CEO David Andrews delivered some big news Saturday afternoon. Photo: Nina Weiss/The Home News
If there wasn't enough buzz surrounding the Lehigh Valley Phantoms in recent days, with the arrival of top prospects like defenseman Travis Sanheim and forwards Oskar Lindblom and Nicolas Aube-Kubel to the organization, now the Philadelphia Flyers' top minor league affiliate is on the national radar. Despite not qualifying for the 2016 Calder Cup Playoffs, Lehigh Valley will continue to be in hockey's forefront leading up to the turn of the calendar year in 2017.
The American Hockey League (AHL) announced Saturday that the PPL Center in downtown Allentown, Pa. – home to the Phantoms – will host the 2017 AHL All-Star Classic. The two-day event takes place on January 29th-30th and is something that has been in the works for a long time according AHL President/CEO David Andrews, who addressed the media before the Phantoms' Saturday home game against Bridgeport.
"We've probably been having discussions ever since the team came here about when we might want to do an All-Star Classic in Lehigh Valley," Andrews said in a 1-on-1 interview with The Home News.
"As we moved through this year's event and began to really think about where we ought to go, we had conversations with a number of our teams – in both the Western and Eastern Conference – and came to the conclusion that there's kind of a calendar over the next few years that makes sense for us and the ideal time for our league," Andrews added.
For the Phantoms and the Lehigh Valley, that ideal time is now.
"It's not news to anyone to know how good this facility is, and the amenities around for hosting an event of this nature," Andrews said of the PPL Center and the Allentown area, also referencing the proximity to other AHL cities like Hershey and Wilkes-Barre/Scranton in addition to Philadelphia.
Phantoms' Co-owner/governor Rob Brooks recalled going to NHL All-Star games with his brother Jim growing up, and that the ball began rolling on the idea of hosting the league's annual event well before the 2016 All-Star Classic in Syracuse earlier this year. In fact, the Brooks brothers took more than a handful of their staff with them to Syracuse to see first-hand what it takes to host the event. As Rob explained, after the trip to Syracuse the entire staff was on board and wanted the event in 2017.
"We wanted everyone here to experience how great it feels to host this event. We're really excited personally, but we're also excited to share it with the community because it's going to be a lot of fun," Rob Brooks said.
This past year's All-Star Classic in Syracuse broke away from the traditional East versus West All-Star Game to conclude the event, instead switching to a round robin tournament style of play with each of the four divisions having their own team of All-Stars competing in both 4-on-4 and 3-on-3 play. According to Andrews, fans can expect much of the same at the 2017 All-Star Classic in Lehigh Valley.
"We may tweak it a little bit, but we really liked it and our players loved it which is as important as anything," Andrews said about the format for next year's All-Star Classic. "I don't think it will be tweaked very much. I thought it worked pretty well, our fans thought so, and the players thought so too."
Up Next
The Phantoms conclude their 2015-16 regular season with one more three-game weekend, beginning Friday night at home against rival Wilkes-Barre/Scranton. Lehigh Valley heads to Hershey for a Saturday night matchup against their other intrastate rival Bears. Both of those games are scheduled to begin at 7:05 p.m. ET. The Phantoms' season finale is Sunday evening at 5:05 p.m. ET against the Syracuse Crunch – the same team they hosted to begin the regular season back on October 10th.
You can follow all the latest Lehigh Valley Phantoms breaking news, in-game updates and much more by following Tony on Twitter -> @TonyAndrock and by visiting his daily online coverage at Highland Park Hockey.