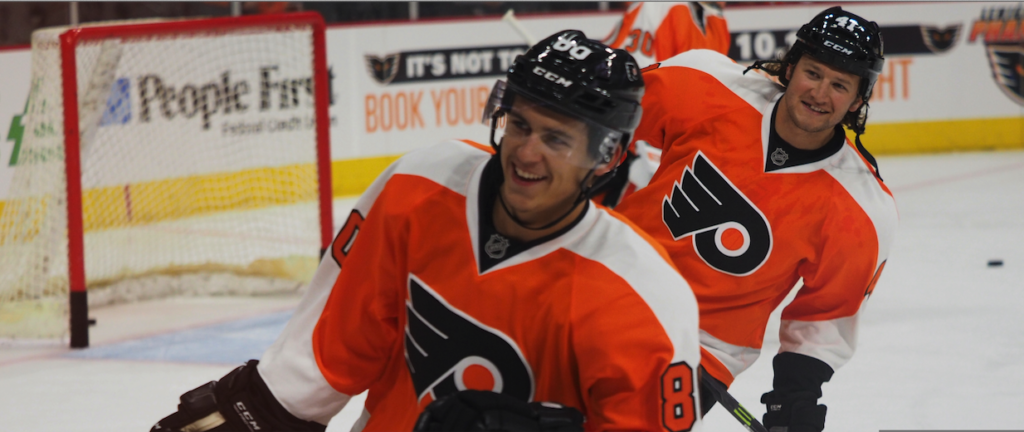 Travis Konecny and Jay Rosehill participated in last year's NHL preseason game at the PPL Center. Photo: Nina Weiss/The Home News
The Lehigh Valley Phantoms' home venue, the PPL Center, added another premium event to the calendar for the 2016-17 season Monday when the Philadelphia Flyers announced they will play a preseason game on Wednesday, September 28 against the New Jersey Devils in the Lehigh Valley.
The news of the return of 'Flyers in the Valley' comes exactly five weeks after the American Hockey League (AHL) announced that Lehigh Valley will be hosting the 2017 AHL All-Star Classic January 28-30.
"This game is a true celebration of the Flyers/Phantoms affiliation and the organization's collective commitment to growing the sport of hockey in the Lehigh Valley," said Phantoms co-owner/governor Rob Brooks in the team's news release.
"It was a thrill to watch world-class players like Claude Giroux and Jake Voracek on PPL Center ice and we look forward to another exciting night of NHL hockey in the Valley," added Phantoms co-owner/governor Jim Brooks.
Last fall, 7,464 fans saw the first ever NHL preseason game in the Lehigh Valley as the Flyers defeated the New York Islanders 5-3. This year, fans will again have a chance to watch NHL hockey in downtown Allentown.
Those who participated in last year's game had nothing but praise for the amenities at the Phantoms' home rink, including Flyers star forward Jakub Voracek.
"It's an NHL rink," Voracek said after the Flyers' preseason win at PPL Center last September. "When you look at the locker room, the weight room, the medical room and everything it's a great setup for players in the AHL. I think they can be pretty happy that they can play here. It's been a great experience."
If the upcoming schedule wasn't enticing enough for hockey fans in the Lehigh Valley for the 2016-17 season with the AHL's premier event coming to town in late January, the second ever NHL game at PPL Center this fall further proves the commitment level between the NHL and AHL affiliates in the organization.
"We are very excited to have the Flyers playing again in Allentown," Flyers President Paul Holmgren said in the team's press release. "We are absolutely thrilled with our affiliation and look forward to bigger and better things in the future. Our fans in the Lehigh Valley are great, and this game will give them an opportunity to see not only current Flyers but future Flyers as well."
You can follow all the latest Lehigh Valley Phantoms breaking news, updates and much more during the offseason by following Tony on Twitter -> @TonyAndrock and by visiting his daily online coverage at Highland Park Hockey.