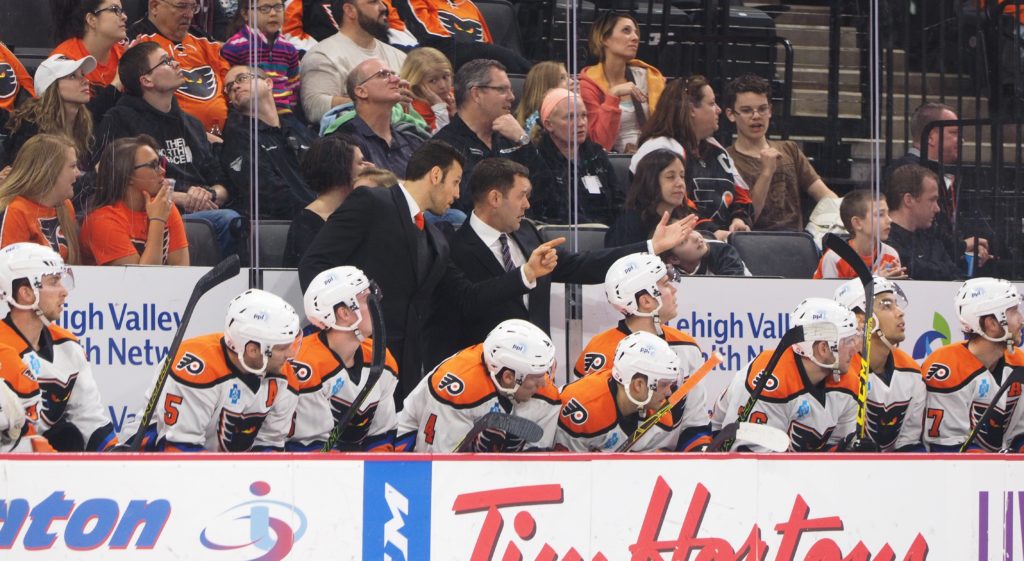 After a full season together behind the bench, head coach Scott Gordon and assistant coach Riley Cote will be on the same page from day one in the 2016-17 season. Photo: Nina Weiss/The Home News
While there are still plenty of steps the Philadelphia Flyers organization has to take during the off-season before their AHL affiliate's roster in Lehigh Valley begins to get set in stone for the 2016-17 seasaon, it's never too early to look ahead.
The Flyers have plenty of free agents to contemplate re-signing this summer, but here's a list of the players under contract for next season who either spent a majority of their season last year with Lehigh Valley or will be turning pro full-time in the fall.
Under Contract
Forwards: Nicolas Aube-Kubel, Cole Bardreau, Chris Conner, Radel Fazleev, Tyrell Goulbourne, Taylor Leier, Danick Martel and Colin McDonald
Defensemen: Robert Hagg, Christian Marti, Sam Morin, Jesper Pettersson, Travis Sanheim and Reece Willcox
Goaltenders: Anthony Stolarz and Alex Lyon
The Phantoms already have their fair share of talent returning in the fall, and the Flyers will continue to add to that throughout the offseason starting with the 2016 NHL Entry Draft on June 24-25th and continuing through to free agency the final week of June and into July when the free agent market opens.
Explaining Restricted And Unrestricted Free Agents
'Restricted' and 'Unrestricted' are words put in front of impending free agents that put available players for the upcoming season in two very different categories.
A restricted free agent (RFA) is a typically younger player who has an expiring contract that was either his first professional contract (aka an entry-level deal) or a subsequent contract in which a team submitted a qualifying offer (see below) to the player from the previous year.
Teams have until 5 p.m. ET on June 29th to submit what is called a qualifying offer to their impending RFA's to retain their rights for the upcoming season. If a team fails to 'qualify' one of their RFA's by that date they will become unrestricted free agents (UFA's) – making them free to sign with any team they choose when the NHL's free agency begins on July 1st.
A qualifying offer is a raise of 110% the player's salary from the previous season if he made under $660,000 (NHL-level) or a raise of at least 105% if he made up $1 million. Players making over a million must be offered 100% of their salary from the previous season.
The main difference between RFA's and UFA's is that RFA's have almost no bargaining chips in their stack. If a team qualifies their RFA, they retain his rights through next season. It is only after June 29th and no qualifying offer, that an RFA becomes unrestricted and is free to sign with any team who is interested in him.
UFA's, on the other hand, are only exclusive to the team they played on last season until NHL free agency begins. They are free to reject any contract offer their team presents and can instead opt to hit the free agent market on July 1st and field offers from other teams. Thus, it is a little more difficult to retain the services of a UFA than an RFA.
Impending Free Agents For Lehigh Valley*
* Please note that the Philadelphia Flyers are responsible for re-signing players to NHL contracts, while the Phantoms can sign players to AHL contracts for the upcoming season.
NHL UFA: goaltender Jason LaBarbera, defenseman Davis Drewiske and forward Tim Brent
NHL RFA: defensemen Mark Alt and Max Lamarche and forwards Brandon Alderson, Derek Mathers, Aaron Palushaj and Petr Straka.
AHL UFA: goaltenders Martin Ouellette and Connor Knapp, defensemen Mike Marcou and Nick Luukko and forwards Phil DeSimone, Pavel Padakin (signed 1-year deal in KHL with HK Sochi), Michael Parks, Jay Rosehill, Dalton Smith, Kevin Sundher and Geoff Walker (signed 1-year deal in Allsvenskan with Tingsryds AIF)
You can follow all the latest Lehigh Valley Phantoms breaking news, updates and much more during the offseason by following Tony on Twitter -> @TonyAndrock and by visiting his daily online coverage at Highland Park Hockey.