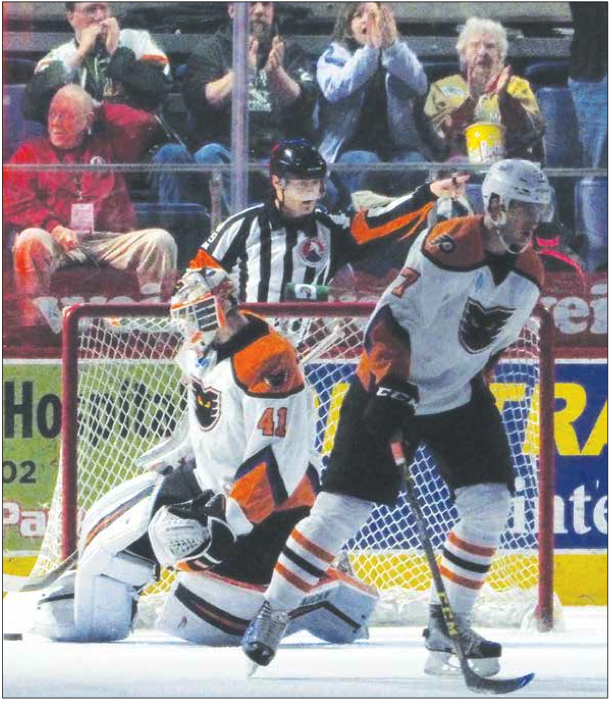 Christian Marti will be playing pro hockey in Switzerland next season, Photo: Nina Weiss/The Home News
After an injury-filled first season of pro hockey in North America, Lehigh Valley Phantoms defenseman Christian Marti is returning to his native Switzerland – signing a three-year contract with the ZSC Lions in Switzerland's top pro league.
Marti had one year left on his contract in North America with the Philadelphia Flyers organization, but the contract had an out-clause stating that Marti was free to return to the Swiss' National 'A' League (NLA) if he wasn't in the NHL by December according to reports overseas.
The Bulach, Switzerland native gave North American pro hockey a try, signing with the Flyers on May 1st, 2015. Unfortunately for Marti, an offseason shoulder surgery caused him to miss the first month of the Phantoms' season and a subsequent shoulder injury in his 6th career AHL game caused him another two month absence.
In all, Marti was limited to just 27 games with the Phantoms last season – tallying one assist and looking unconfident on the ice at the AHL level. The injuries he sustained early on in the season were simply too much to overcome.
"It sucked big time," Marti said back in mid-January when he was ready to return to game action again. "I came here with so many goals, with high expectations and most of the time the guys saw me in the trainer's room. I was pretty upset."
Marti's departure leaves Lehigh Valley with five defensemen under contract for the 2016-17 season – Robert Hagg, Sam Morin, Jesper Pettersson, Travis Sanheim and Reece Willcox.
Offseason Dates to Remember
Friday and Saturday, June 24-25: The 2016 NHL Entry Draft in Buffalo, NY
Wednesday, June 29: The deadline to tender qualifying offers to restricted free agents in order to retain their rights at 5 p.m. ET.
Friday, July 1: Free Agency Begins
July 5-11: Flyers annual development camp in Voorhees, New Jersey
September 28: Philadelphia Flyers vs. New Jersey Devils, NHL preseason game at the PPL Center in Allentown, Pa.
You can follow all the latest Lehigh Valley Phantoms breaking news, updates and much more during the offseason by following Tony on Twitter -> @TonyAndrock and by visiting his daily online coverage of the AHL at Highland Park Hockey.