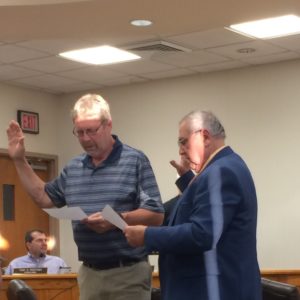 Kenneth Hall, the Northampton Fire Department's fire police captain, was sworn in as the newest member of the Northampton Borough Council on Thursday, June 1. Hall is replacing former councilman Robert Coleman and representing the First Ward. As Hall took his seat for the first time, with his family in attendance, he was greeted warmly by Mayor Thomas Reenock and the rest of council.
"I have big shoes to fill," Hall said of replacing Coleman, adding that he is thankful for the opportunity to further serve the borough.
"[I am] looking forward to working with you," Councilman Tony Pristash said to the newly appointed council member. "[You have been] very present at many borough events."
Not only was Hall sworn in as a new council member, but Officer Brent Danenhower was hired as a full-time police officer for the borough and sworn into the force by Mayor Reenock. He too was welcomed by council.
"It is an honor to have him as part of the department," said Councilwoman Judy Kutzler.
Now that Officer Danenhower has been employed full-time, the borough must rebuild its civil service list, which is currently empty. Without a list, the borough cannot hire any new police officers or fill other civil service positions.
However, while council greeted new faces to the borough, they had to say goodbye to a familiar one. During the meeting, it was announced that Police Chief Ronald Morey will be retiring at the end of the summer. While he still has several months left before he leaves the force, council took some time to thank him for his many years of service to the borough.
"Our relationships have paralleled each other," Councilman Anthony Lopsonzski, Sr. said to Chief Morey. "It was fun working with you."
Borough Manager LeRoy Brobst also worked alongside Chief Morey for many years, reminiscing back to when he served as park foreman and Chief Morey worked as a summer helper.
"The door is always open," he said.
Other business during the meeting included an update on the Coplay Bridge, which has recently been closed for repairs. A free pedestrian shuttle is available for residents every half hour while the bridge is closed. Mayor Reenock also recounted the recent visit of representatives from Northampton's sister city, Stegersbach, Austria. Media, citizens, and even a parliamentary member from the Austrian city visited several sites in Northampton, including the Atlas Museum and the borough's Hungarian cemetery. Mayor Reenock said they had a "very good time."
Finally, council voted 4-3 to decrease the number of meetings per month in the summer from two to one, which means council will meet on July 20 and August 17.