The Roxy Theatre in downtown Northampton once again opened its doors for an annual Christmas tradition.
On Wednesday, December 13, the Roxy Theatre and the Northampton Chamber of Commerce partnered together to bring cheer to the community. For about the tenth year in a row, the chamber hosted its annual free holiday movie at the historic theatre. This year's classic Christmas film was "It's a Wonderful Life." Admission was free as long as those in attendance brought a donation for the Northampton Area Food Bank.
The line for the film stretched down the block. Families, their arms filled with bags of canned goods, waited in warm pajamas and festive sweaters for the showing of the classic Jimmy Stewart film.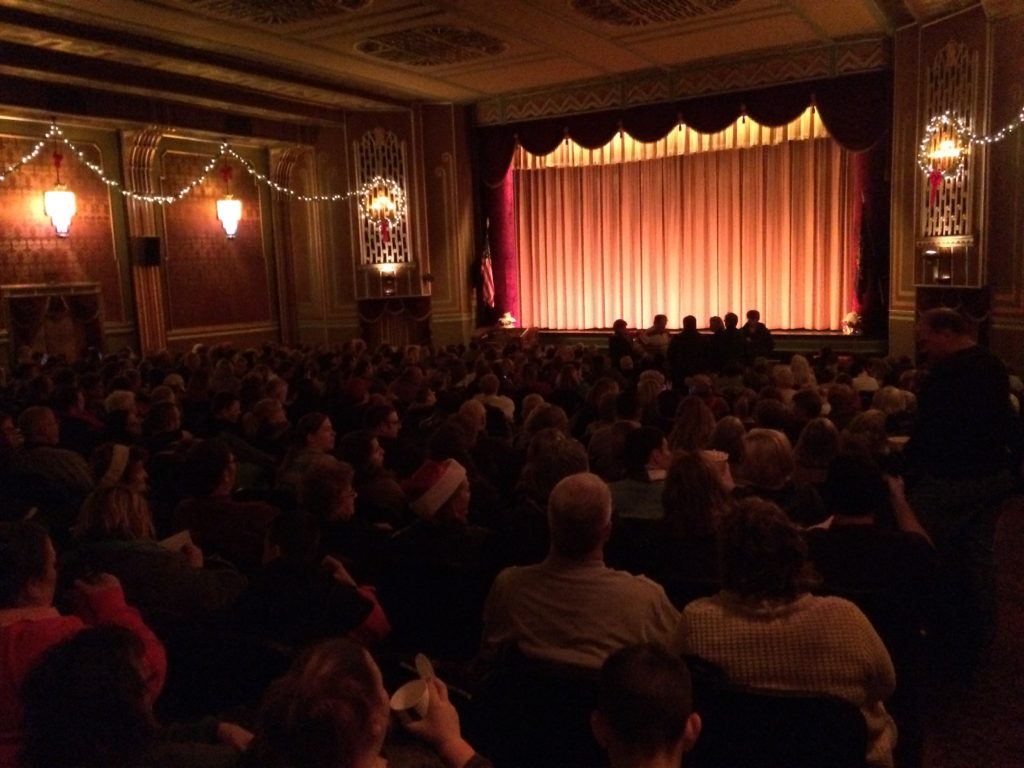 "We always sell out," said Renee Keiderling of the Northampton Area Chamber of Commerce. "We see about 400 people…[and] fill about 40 boxes of canned goods." These forty boxes are enough to fill two pickup trucks with meals for those in need.
"The generosity is overwhelming," said Tony Pristash, president of the Chamber and member of Northampton's borough council. "[The event] brings everybody together [and] gives them the best introduction to the Christmas season."
A mixer, which was open to the public, preceded the 7 p.m. film showing. About 50 people attended the mixer. Food, holiday treats and drinks were provided by the chamber and local sponsors. Sponsors included Nazareth Palette, Chick-fil-A in Whitehall, Karen's Kutz and Galen Glen Winery.
However, without the Roxy Theatre, the show cannot go on.
"[This] is something we have been doing for many, many years," said Richard Wolfe, owner of the Roxy. "[It is] something I enjoy. It is nice to get people together for the holidays for a good cause."
"It is [also] a great way to expose the theatre to people who do not normally come here…[and] help keep the theatre continuing to prosper," Wolfe continued.
"[Wolfe] is always happy to open his doors," said Keiderling. "He does a really good job for us."
"He makes it all possible," added Pristash. "He brings the true Christmas spirit to town."
The Chamber and the Roxy rotate their holiday film every year. Families in Northampton are already looking forward to next Christmas when another classic will grace the screen and the community will once again come together for a night of festive films and generous giving.