Nazareth Area High School's Theatre Troupe has brought the beloved tale of "Little Women" to the stage in its heartwarming spring musical. Directed by John Andreadis and based on the Louisa May Alcott novel, the musical tells the story of the four March sisters in Civil War-era Concord, Massachusetts. Their father off to war, the fiercely independent sisters and their loving mother explore family, romance, and heartbreak during a time in which society's expectation for women was that they should be seen and not heard.
It is fitting that a show about strong, independent women would feature a cast of young actresses with powerhouse voices that brought audience members cheering after every single solo. Grace Kindt plays Jo March, an aspiring writer with a story to tell. Hailey Durner plays Marmee March, the March family matriarch. Kelly Oakley plays Meg, the eldest March sister; Maura Muretta plays Amy, the youngest March sister; and Anna Soldano plays Beth, the kindhearted March sister who can find the good in any character, even the grumpy Mr. Laurence next door.
Kindt is able to perfectly capture Jo's strong spirit and quick wit. Her performances of "Better," "Astonishing," and "The Fire Within Me" are the show's standouts. Kindt is on stage for nearly the entire musical and her energy never falters.
Durner also shines in her solo performance of "Here Alone," in which the audience gets a sense of Marmee's courage firsthand as she works to take care of her four daughters.
Other highlights of the show are when the March sisters perform together. In songs like "Our Finest Dreams" and "Five Forever," their voices blend perfectly and ring throughout the theatre.
In addition to the March sisters and mother, several men enter the March women's lives, including the lovable Laurie Laurence and Professor Bhaer. Steven Fuquay plays Laurie, a March "brother" of sorts who instantly becomes smitten with Jo. Fuquay gives Laurie plenty of energy and playfulness, especially in his performance of "Take a Chance on Me."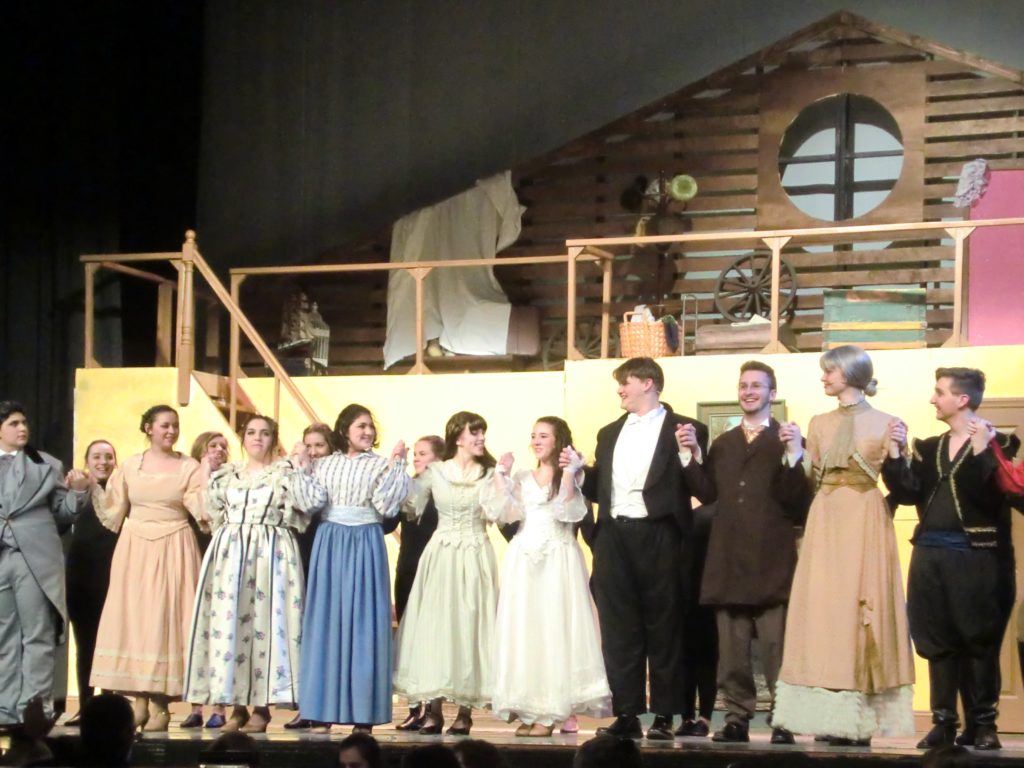 Greg Wintle plays Professor Bhaer, Jo's professor and confidant who reads her stories and offers his honest criticism, even if it is not always what Jo wants to hear. Wintle is able to perfectly show Bhaer's transition from a serious and somewhat stern character into one who cares deeply not just for Jo's stories, but for Jo herself.
The musical also features a strong supporting cast, student orchestra, and beautiful period costumes that help bring the classic tale to life.
Performances of the Freddy Award-contending musical will be held at Nazareth High School on April 12, 13, and 14.