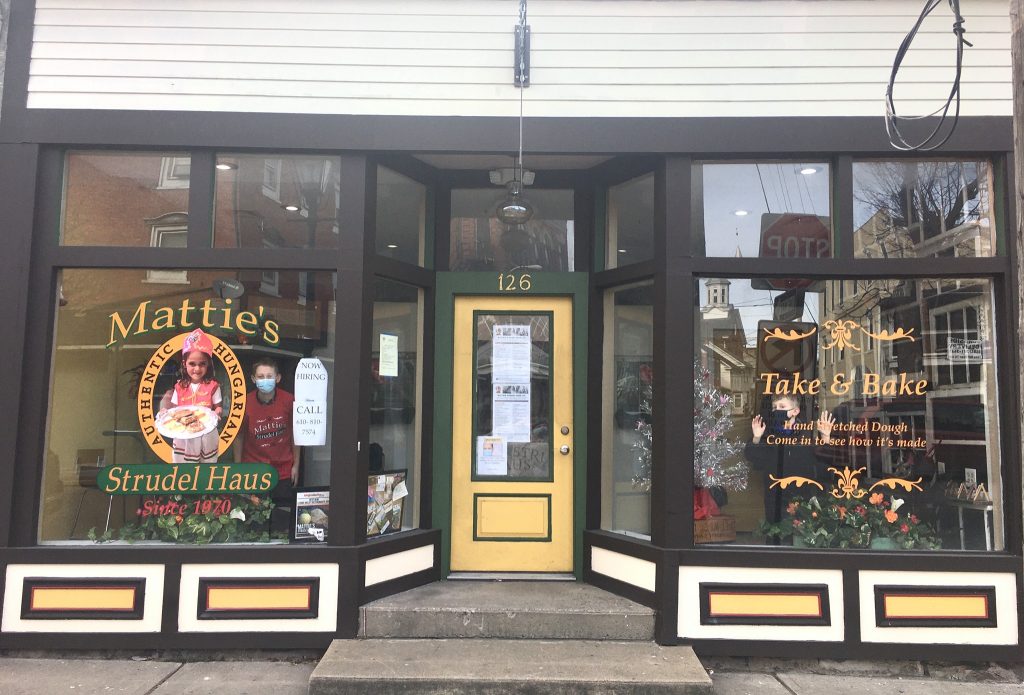 After much anticipation, Mattie's Strudel Haus officially opened its doors on W. Main Street in Bath. The shop's hand-stretched strudel has long been a favorite of those who have tasted the homemade recipes at local farmers' markets and festivals like Spuds & Suds. Now, everyone can take a piece of sweet or savory strudel home to enjoy year-round.
Kelly Vlasics, Mattie's Strudel Haus founder, has worked tirelessly to bring her traditional strudel to a new generation. It was Vlasics's grandmother, Mattie, who started the family tradition of strudel making over 50 years ago. Mattie taught Vlasics's mother and then Vlasics herself how to hand stretch the dough until it was paper-thin. Now, Vlasics is sharing her family's delicious art with a growing group of dedicated fans.
Vlasics says she always enjoyed baking but spent many years working in the corporate world until she finally decided to make her dream a reality.
"[After] the loss of interest [in] the everyday hustle and bustle… I was depressed and needed a change," she says. "I was brought up cooking and baking in the kitchen and always loved working alongside my grandmother and mother. As I gained more strength, I said to myself, 'I'm going to make strudel one day.'"
And make strudel she did. She started the business in her basement, cooking, stretching dough as thinly as her grandmother taught her, and mixing together dozens of strudel recipes.
"I finally felt the fulfillment I needed to use my customer skills, marketing skills, and lifelong cooking skills sharing the strudel heritage to customers both young and old," she adds.
One of those customers was extra memorable: Vlasics's now-husband, Tom.
"He bought a cabbage, perused me everyday, stuck with me through all the bad times and endless nights cooking. Now we are married," she says. "You can say we met over strudel. A strudel connection!"
After years of selling the strudel at farmers' markets and festivals, delivering to customers, and renting space from a church in Nazareth, Vlasics and her family set their sights on opening a physical shop.
"After taking a trip to Hungary and Germany, I envisioned a little shop similar to the little quaint shops I saw there," she says. "I needed to bring back the nostalgia [and] history of European strudel stretching."
Vlasics first found an available location in Bushkill Township, an opt-out township that required her to work with Harrisburg when it came to permitting.
"We had no idea of the challenges we would face here," she says.
The contractor her team worked with never requested a work permit and drawings were never submitted. The state issued a stop-work order. So much time, effort, money, and energy went into recovering what was lost during this process, Vlasics says she withdrew a civil court suit to focus on finding a new location.
That path led her to Bath, a borough close to her heart. She grew up in Bath. Her mother also sold her hand-stretched strudel there.
However, this new location still posed the same old problems as the location in Bushkill. Plumbing, electricity, accessibility, and gas issues were not disclosed. Vlasics was again scammed by a contractor. UGI had to dig a natural gas line. Then, a vehicle crashed into the storefront, slowing down progress even more.
"I was tempted to give up," says Vlasics. "
My dreams suddenly turned into a nightmare."
She credits her husband, her mother, local volunteers, and her faith with keeping her going.
"I would regroup my thoughts every day and pray, which gave me the energy and spirit to go on working countless hours again to save the dream and business," she continues. "We finally made it and we will have challenges, but nothing like we had before."
Vlasics's hard work, perseverance, faith, and love for her family's tradition finally came to fruition when the shop opened on January 23, offering dozens of types of strudel, from sweet blueberry crumb to savory bacon chicken ranch. And now, the building that posed so many problems for Vlasics is a picture-perfect storefront right out of a village nestled in the Hungarian countryside. A window decorated with European flower boxes gives a view of Vlasics and her team stretching the dough by hand.
There's no shortage of flavors customers can try. Some of the most popular sweet flavors are strawberry rhubarb, peach bourbon and cream, and cherry cobbler. Cheesesteak, cabbage, Reuben, and taco varieties are some of the most popular savory flavors. When it comes to breakfast flavors, it's "everything but the kitchen sink."
Vlasics says some of her favorite varieties are the traditional flavors she grew up on, like apple and cabbage. But she is always looking for new flavors and has a thorough process when it comes to creating new menu items.
Cooks, stretchers, and taste-testers all work together to determine what flavors work best in the strudel's famous flaky dough. Those that pass the test are offered as limited-time specials. If they're popular with customers, they're added to the full menu.
And although the shop just opened, Vlasics is looking ahead to more opportunities for her customers. The future will bring more specialty strudels and strudel making classes for the public. Mattie's Strudel Haus will also continue to make appearances at local farmers' markets and festivals, including the Nazareth Farmer's Market in May through December, New Brunswick's Hungarian Festival in June, and Spuds & Suds in August.
The new location in Bath is open Monday through Friday from 9 a.m. to 3:30 p.m. and Saturday from 9 a.m. until 2 p.m. There are also evening hours on Monday and Thursday from 5 to 7:30 p.m. Strudel can also be bought online, via Facebook Messenger, or by calling 610-810-7574.
Bringing Mattie's Strudel Haus to Bath was a long journey, one that would have stretched anyone even thinner than Vlasics's famous strudel! But the results are bound to be sweet.
Says Vlasics, "This love of this heritage of strudel stretching and keeping it alive for my Grandma Mattie and mother was all I needed to see this dream through."