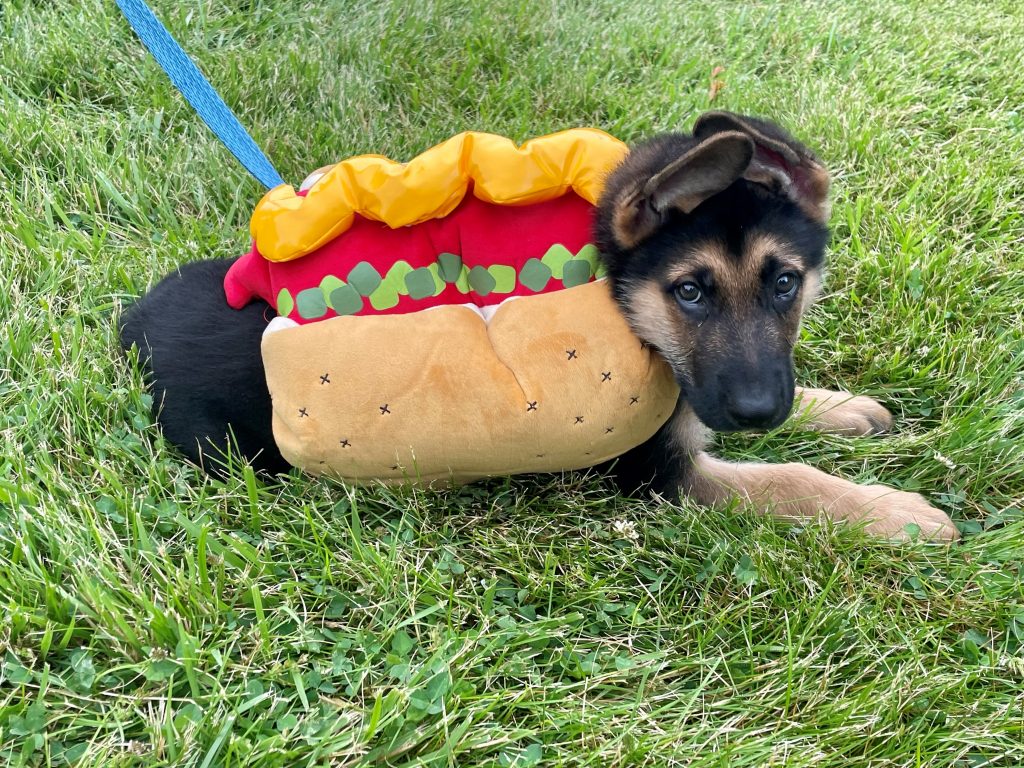 On Sunday, June 12, Paw Prints on the Canal celebrated its 13th year on Canal Street in Northampton. 
"This was our biggest year yet!" event organizer and proud volunteer/foster with the Mid-Atlantic English Springer Spaniel Rescue Candi Lynn expressed. 
Although the annual event is "rain or shine," the forecasted rain luckily held off for the festivities. This year marked the most vendors the event has ever had with 179 vendors in total, a big increase from the 35 vendors in 2009, the event's inaugural year. 
Tail-wagging puppies and sleepy kittens in pens and crates were available for adoption from various rescue organizations to spread the word to adopt, not shop. Some of the rescue organizations in attendance were Blind Dog Rescue Alliance, Char Wills German Shepherd Rescue, Doberman Pinscher Rescue PA, Freedom First Rescue, French Bulldogs Rescue Network, Fund-A-Bull Bulldog Rescue, Harnessed to Hope Northern Breed Rescue, Last Chance Ranch, Mid-Atlantic English Springer Spaniel Rescue, One by One Cat Rescue, Outcast Rescue, Paws 2 Freedom, Peaceable Kingdom, Pibbles Paws Safe Haven, Rags 2 Riches Animal Rescue, Red Rock Rescue, Rescued and Co., Ruff Life Rescue & Rehab, SOS Beagle Rescue, Starting Over Animal Rescue, The Sanctuary at Haafsville, and Zoe's Home Animal Rescue. 
Although cats and kittens could be adopted on the spot, dogs and puppies require prior approval in the state of Pa. Some lucky pups were able to go home with their new moms and dads if they had been previously approved. Other hopeful adopters were able to fill out adoption applications or were directed how to do so online to adopt the other animals from the shelters and rescue organizations. Many excited pups will soon see their fur-ever homes in the upcoming week.
Other vendors included crafters, local businesses, grooming companies, animal hospitals, therapy animal organizations, trainers, pet food companies, pet photographers, caricature artists, and food trucks/vendors, who kept everyone busy and offered many types of treats for both four-legged furry friends and their two-legged companions alike. From hand-painted signs reading "Dog is friendly, beware of owner," soaps, candles, jewelry, household items, and pet kisses for humans, to hand-made baked treats, collars, leashes, bandanas, and blankets for spoiled pooches, vendors had something to offer everyone.
Lynn stated that a lot of work went into organizing Paw Prints on the Canal this year, and that she is extremely thankful for her team of volunteers deemed Team Paw Prints. Lynn also added that she is very grateful for Northampton Borough for sponsoring the event, for the police, fire, and EMS departments and all of their help, for the volunteers that provide their time, and for the various donations they receive. 
Lynn expressed appreciation and gratitude, especially to the Stanglein Veterinary Clinic that donated their time and resources to the rabies vaccine and microchipping clinic that day and the animal CPR demonstration by the EMS department.
For education and entertainment throughout the day, Paw Prints on the Canal had several demos such as the demo by Sergeant Michael Buchanan & Vito, the Allentown Dog Training demo, Passion 4 Paws dog training demo, and Dream Weavers agility demos. The event also had music and announcements provided by DJ P.K. and the beloved annual Sharp Dressed Pet Contest.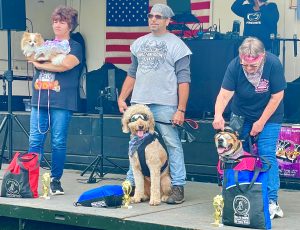 Ten pups entered the Sharp Dressed Pet Contest with costumes ranging from a hot dog, birthday party dresses, prom attire, Hawaiian shirts and leis, sunglasses, cowboy hats, a pride month equality tutu, a breast cancer support outfit, a mom and doggy matching kilt set, and motorcycle attire complete with riding glasses as they strutted across the stage to "I'm Too Sexy" by Right Said Fred and struck a pose for judges and spectators.
Six judges tallied their scores, and this year's top three best dressed pets were Pudding the Pomeranian wearing her "Not a Cloud in the Sky" birthday dress in third place, Riley the Goldendoodle motorcycle dog, who has his own sidecar seat when riding with his dad in second place, and Captain the Boxer mix in his breast cancer awareness outfit in first place. Prizes were donated by Annamaet Petfoods. 
Funds were raised throughout the day from registration fees, the bake sale, the ice cream sale, raffle ticket sales, the microchip and rabies shot clinic, and donation jars, which will go to the Northampton Police Department's K-9 Unit at the following month's borough meeting.
Additionally, Paw Prints on the Canal thanks the following businesses for their donations and support: Ace Miller Supply Hardware, Annamaet Petfoods, FASTSIGNS, Harhart's Gulf Service Station, J's Steaks & Subs, Konkrete Creamery, Lawn Science, Northampton Seafood Market, and Tanczos Beverages, as well as the individuals and vendors that donated raffle baskets and baked goods.
Lynn stated that her favorite part of the event every year is, "Seeing everyone have a good time, knowing that everyone is there to support our cause for the K-9 unit, and especially the police who are a very important aspect of our community."
With the event increasing in size every year, many volunteers will also be needed for next year's event. Interested animal enthusiasts can email pawprintsonthecanal@yahoo.com and more information can be found on the Paw Prints on the Canal Facebook page.
Team Paw Prints is thankful for everyone that participated in and attended the event and looks forward to next year's turnout on Sunday, June 11 from 11 a.m. to 4 p.m. on Canal Street in Northampton.