In today's column, we are going over the Coplay-Northampton Bridge to enjoy a movie at the Ritz.
It's 1938. Do our readers remember the Ritz?
The old Cement News, which served the Cement Belt, featured the Ritz in its Aug. 26, 1938, edition.
Mr. P.A. Magazzu, of Hazleton, is the new owner. He acquired the theater from S.D. Walker who opened the movie house years ago. He changed the name from State Theatre to the Ritz. He owned theaters in Treverton, Benton and Glen Lyon.
"It is the intention of Mr. Magazzu to show good, wholesome screen showings simultaneously with larger cities at popular admission prices. Already an order has been placed for new seats to replace those in use at present, as soon as the order can be filled. The acoustics will be improved and the auditorium will be redecorated as time and opportunity afford. A new marquee will soon adorn the Ritz front, and other entrance beautifications will be added.
"The Ritz is equipped with a Western Electric sound system, which is an asset allowing the opening next week. This splendid sound-projection equipment enables the owner to beat time in opening this popular playhouse so soon after it is acquired.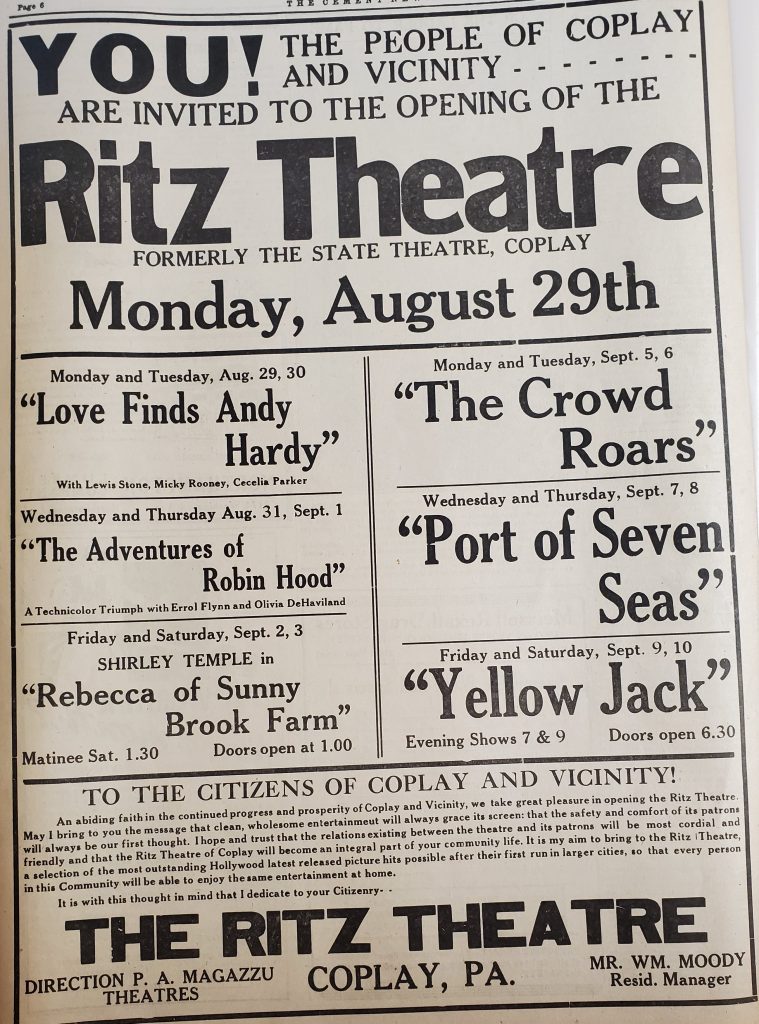 "Tuesday night, the Ritz Theatre will open to the public showing 'Love Finds Andy Hardy,' with Mickey Rooney and Lewis Stone. On Wednesday and Thursday, the popular 'Adventures of Robin Hood' will be shown.
"Mr. William Moody is resident manager. He has vast experience in the movie industry. The new manager will be present to greet all movie patrons. He desires to enter Coplay's community spirit and do his share in promoting the development of the community.
"Others already engaged to assist in operating the Ritz are Frank Mills, projectionist, and Miss Bertha Beck, as cashier.
"Visit the Ritz on opening night and give your patronage as often thereafter as possible. You find that the Ritz will reflect your interest and patronage in advancement and further improvement.
"The Cement News hopes that Coplay people and those of surrounding communities will find much pride and pleasure in the Ritz Theatre."
1938 was a depression year. The nation faced many serious economic problems. There was massive unemployment. The silver screen gave our citizens a time to briefly forget some of the daily problems they faced. Shirley Temple, Errol Flynn, Olivia de Havilland and Cary Grant gave us a smile and time to relax.
The writer, my wife and neighbors enjoyed many entertaining films at the cozy Ritz in Coplay.
We will be back at the Ritz to speak to an usher. Join us in two weeks.