Beginning at 8 a.m. on Saturday, April 29, the Bath Area Fish Committee held its 68th Annual Children's Fishing Contest at Monocacy Creek with two days of fishing and fun for children up to age 15.
Although the forecasted rain made it a dreary morning, families still arrived early to set up their spots along Monocacy Creek and the young fishermen and fisherwomen were bright-eyed and bushy-tailed, eager and excited to catch their first fish.
Pennsylvania State Representative Ann Flood attended the contest to see the wholesome fun and promptly blared the horn at 8 a.m. to sound the start of the festivities.
The Bath Area Fish Committee stocked the creek Friday evening with 506 trout that ranged in size from 11 inches to a whopping 18 inches, costing them $3,000, which they raised through donations from businesses and individuals in the community. These donations also allowed the committee to purchase prizes for 20 tagged fish that lucky participants could win, consisting of fishing poles, nets and tackle boxes. 
This year, the committee's Chinese raffle had 40 items up for bid throughout the duration of the contest for both children and adults such as a "good vibes only" body pillow, griddle, waffle maker, slipper boots, plush blanket, electric pump, doll, journal set, Disney Princess puzzle, red, white, and blue picnic accessories basket, Mountainside Pizza basket, Kona Brewing Co. basket, Mickey Mouse kitchen accessories basket, Minnie Mouse basket, BBQ basket, Hershey s'mores basket, spa basket, LOL Dolls basket, Spiderman basket, Baby Shark basket, backpacks, lunch boxes, fishing gear, and gift cards ranging from $20 to $50 for Starbucks, Kohls, Wawa, Holy Family Club, Santa Fe Taco Co., and Texas Roadhouse. 
These items were purchased by or donated to the committee, and were raffled off on Sunday, April 30, which helped raise back some of the funds the committee used for the contest.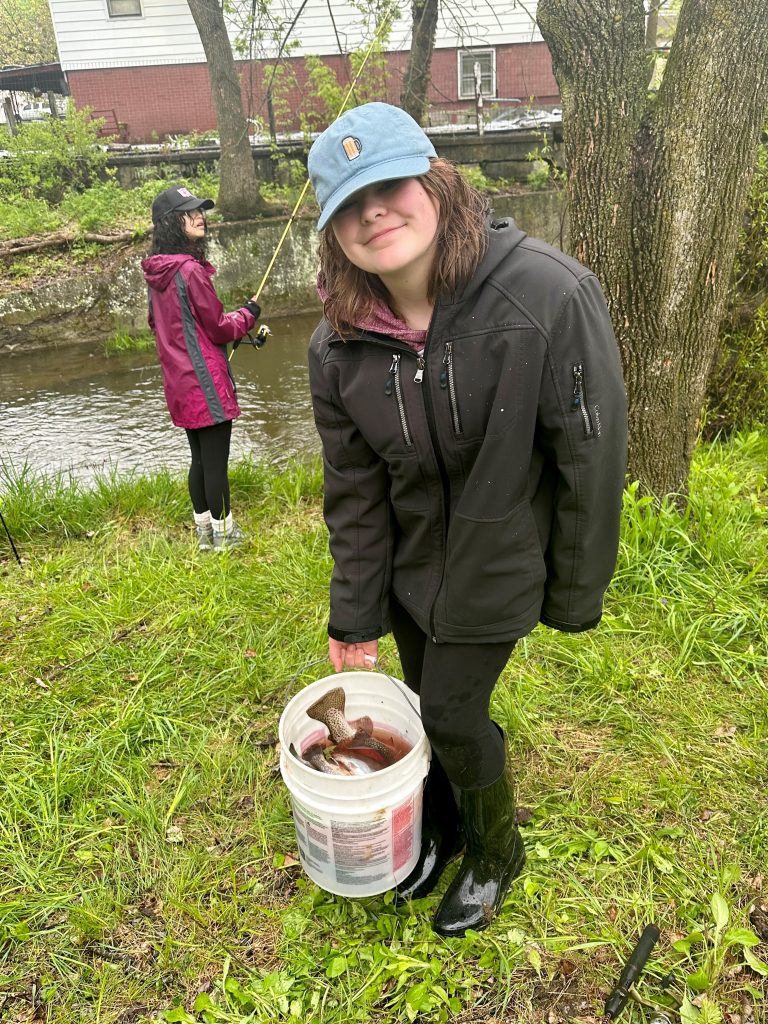 Children of all ages were thrilled to show off their catches, and many of them caught their limit of four fish within the first hour of the contest. 
As fish began to tug, children could be heard excitedly shouting to their family that they had "caught a big one." Excitement and joy filled their smiling faces as they reeled in their fish and checked to see if they were lucky enough to catch one of the prize-winning tagged fish.
Proud parents and grandparents could also be seen teaching and helping their children and grandchildren bait their hooks, cast their lines, reel in, and dehook their fish as they bonded over the experience.
The Bath Area Fish Committee is a nonprofit organization run entirely by dedicated volunteers and is still accepting late donations to help cover the costs of this year's contest and prepare for next year's.
Any local businesses, organizations, or individuals who wish to make a donation can make checks payable to the Bath Area Fish Committee, Federal Tax ID# 270504688. Donations can be mailed to BAFC, P.O. Box 143, Bath, PA 18014.