Ruth C. Newhard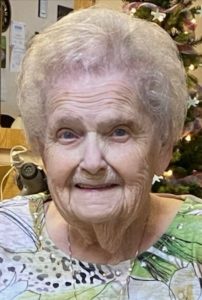 Ruth C. Newhard, 95 of Northampton, Pa., passed away peacefully with her family by her side on Tuesday, June 20, 2023, at her residence. Born Jan. 3, 1928 in Northampton, Pa., she was the daughter of the late Charles H. Greene, Jr. and the late Fannie C. Rothrock Greene. She was the wife of the late Leroy S. Newhard who passed away in October 1999. 
Ruth attended Northampton Area High School and went on to work for Northampton County Intermediate Unit #20 as a bus driver for 15 years. She then transitioned and continued to drive for Northampton Area School District for 11 years before retiring in 1999. Ruth was a former member of the Northampton Senior Ladies group, and in her earlier years she waitressed at the Danielsville Democratic Club. Ruth enjoyed spending time at the casinos playing the slots with friends and family. 
She is survived by her sons, Dennis R. Newhard and wife Juliette of The Villages, Fla. and Dean A. Newhard and wife Lynn of Keeseville, N.Y., daughters, Sandra L. wife of John Hock of Orefield, Pa., Bonnie L. wife of Michael Almond of Northampton, Pa., Pamela L. Fatzinger and companion Jill Fortunato of N. Whitehall Twsp., Pa., and Jan L. wife of James Faustner of Bath, Pa., sister, Fannie A. wife of Arthur Schisler of Northampton, Pa., 13 grandchildren and 21 great-grandchildren. She was predeceased by a sister, Isabelle M. Musselman, and brother Russell C. Greene and a grandson, Jeffrey Rinker. 
A funeral service was held at 11 a.m. on Monday, June 26, 2023 at Schisler Funeral Home, 2119 Washington Ave. Northampton, PA 18067 with the Rev. Joel W. Biggers officiating. The family received friends from 7 to 8:30 p.m. on Sunday, June 25, 2023, and Monday, June 26, 2023 from 10 a.m. until time of service. Interment followed in Fairview Cemetery, Northampton, PA. 
Contributions: May be made to Lehigh Valley Hospice c/o the funeral home. 
Online condolences may be offered to the family at www.schislerfuneralhomes.com. 
Ida E. Rehrig
Ida E. Rehrig, 88, formerly of Bath, passed away on Monday, June 26, 2023 at Gracedale Nursing Home, Upper Nazareth Twp., Pa., with her loving family by her side. Born on Sept. 21, 1934, in Nazareth, she was the daughter of the late Victor M. and Ester (Bailey) Gerhard. Ida was the wife of the late Donald I. Rehrig, Sr., with whom she shared 57 years of marriage prior to his passing in 2010. Throughout her lifetime, Ida loved gardening and crocheting. More importantly, family was who she treasured and always looked forward to spend time with.
Survivors: She will be missed by her family including her three daughters, Linda A. Hartzell, Carol J. Mast, Michele L. Schmieding; a son, Donald I. Rehrig, Jr.; eight grandchildren and many great-grandchildren. She was preceded in death by a daughter, Tami L. Simon.
Services: Interment will be held privately with family in Green Mount Cemetery, Bath. Arrangements have been entrusted to the Bartholomew Funeral Home, Bath.