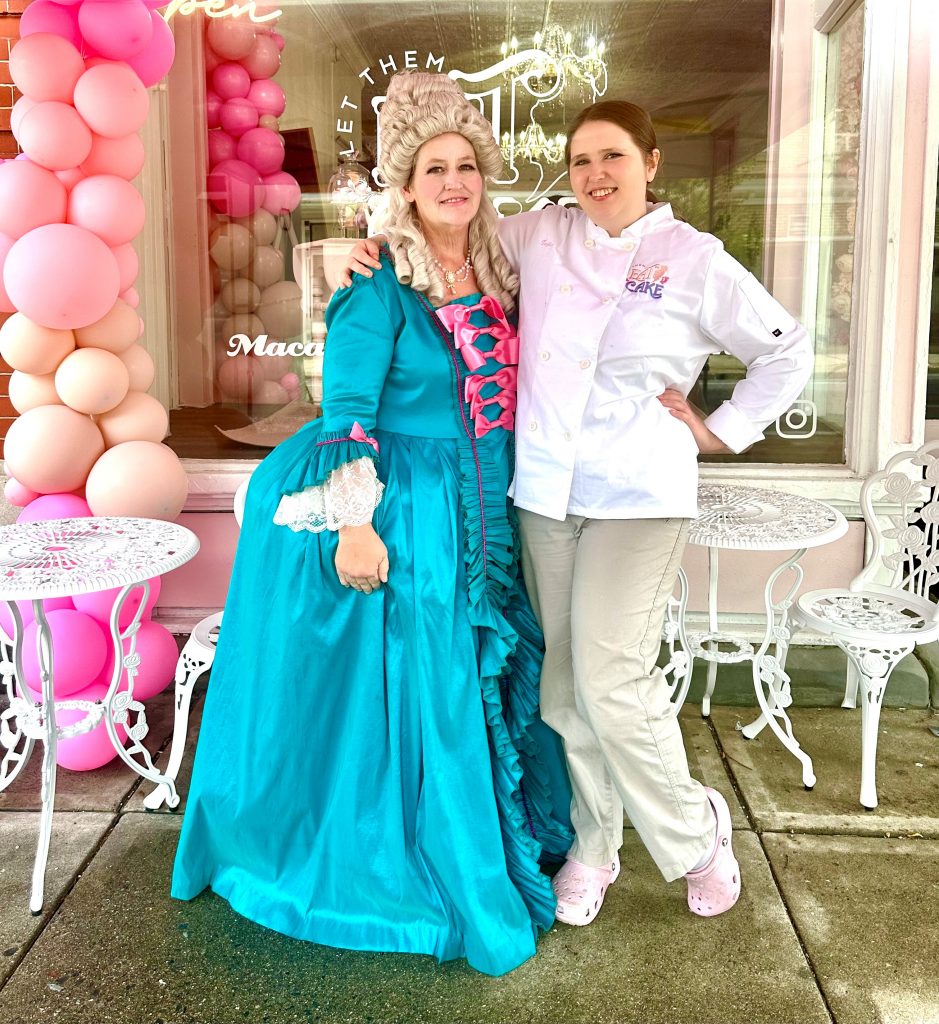 On Saturday, June 24, confection cravers lined Main Street to get a taste of Nazareth's newest bakery's grand opening with the first 50 customers receiving a free half-dozen macarons. In fact, the morning of Let Them Eat Cake's opening was so busy that they sold out of cupcakes within the first two hours.
At just 23 years old, owner Taylor Romero's dreams of owning a bakery since she was a pre-teen have already come true. Romero began baking at the age of 12, thanks to her mother's love of baking, encouragement and support.
Romero's mom and business partner, Channon Smyly, shared that at 12, Romero was obsessed with making brownies before Romero decided to try something new. When Romero set out to expand her baking skills, she picked one of the hardest things to bake—macarons.
"She came to me and said, 'Mom, I'm going to make macarons.' At first, she failed quite a few times, but she kept doing it until she got it. At 16 years old, she got it, and she became amazing at it!" beams Smyly.
Romero continued to hone her macaron and baking skills, which led to Romero receiving her pastry arts degree from Mercer County Community College in New Jersey.
Although the pair have lived all over the country, they moved to the Lehigh Valley six years ago, which is the longest place they've called home. Currently, Smyly resides in Palmer Township, while Romero lives just three minutes away from the bakery in Nazareth.
"We've gotten involved with the community and have received so much support, which has been amazing," says Romero.
The mother-daughter duo's pink and white decadent French-themed bakery is a nod to French regency and French queen Marie Antoinette, who was famously rumored to have once said, "Qu'ils mangent de la brioche," which translates to "Let them eat brioche." Although brioche is a type of rich bread made with eggs and butter, the rumored phrase and its translation quickly became "Let them eat cake."
"Growing up, I had a love for France and for fancy things. I've always been girly and feminine, and I wanted to create my own taste of France, so this has been an homage to my 12-year-old self…Marie Antoinette made every day indulgent and that's what we want to bring to our customers," Romero shared. 
For the grand opening, Smyly even dressed up as Marie Antoinette to pass out samples, which was truly icing on the cake for customers to see.
"We wanted to create a space where people can indulge themselves and indulge in the finer things, which is our tagline. Everything tastes as good as it looks and it's extremely important to us to only give the highest quality product out there," explains Romero.
While Smyly handles the business side of operations, Romero is able to focus on the baking responsibilities that she is passionate about.
"I always want to challenge myself and improve my skill set, and cakes give you more options to grow. I've been focusing on making vintage cakes, and I love making cakes in general, like custom cakes and graze cakes. I am always trying to push the boundary of what I can make and how eccentric I can go," Romero boasts.
Although she loves to make her hand-piped character macarons and vintage cakes, Romero shares that her favorite thing to make is wedding cakes. 
"You not only get to make the cake, but you also get to be a part of the most important moment in someone's life," Romero adds.
Let Them Eat Cake offers an assortment of must-try goodies sure to satisfy any sweet tooth, such as macarons, cupcakes, vintage heart cakes, cold case to-go cakes that patrons can grab last minute, custom cakes and graze cakes, which are one-of-a-kind cake/dessert boards themed around what the customer is looking for. Graze cakes have a center cake, but also offer a variety of other flavors and items around the cake such as cupcakes, meringues, candies and cakesicles. Let Them Eat Cake's graze cakes are based on an idea that Romero came up with after she was inspired by similar creations from bakeries in the UK, which makes them unique to the area.
Macaron flavors are rotated on a weekly basis and include flavors such as pistachio, matcha, honey lavender, cookie butter, Ferrero Rocher, strawberry milkshake, fruity pebbles, chocolate sea salt, cookie monster, crème brulee, raspberry lemonade and birthday cake, with honey lavender and cookie batter being bestsellers.
Cake flavors that patrons can look forward to include classic vanilla, brown butter chai, lemon blues, velvet volcano, Nutella kinder, orange passion, white chocolate raspberry, classic chocolate, dark chocolate raspberry, salted caramel, Snickers, chocolate espresso, birthday explosion, cookies & cream and biscoff, with birthday explosion being a bestselling cake flavor and velvet volcano being the most popular cupcake flavor. 
Custom cake, cupcake, and macaron orders can also be placed online in advance, and Romero welcomes suggestions for new macaron characters and flavors.
Let Them Eat Cake's hours are subject to change based upon what the community needs, but for now they are open Tuesday through Saturday from 10 a.m. to 6 p.m. at 143 S. Main St. in Nazareth.