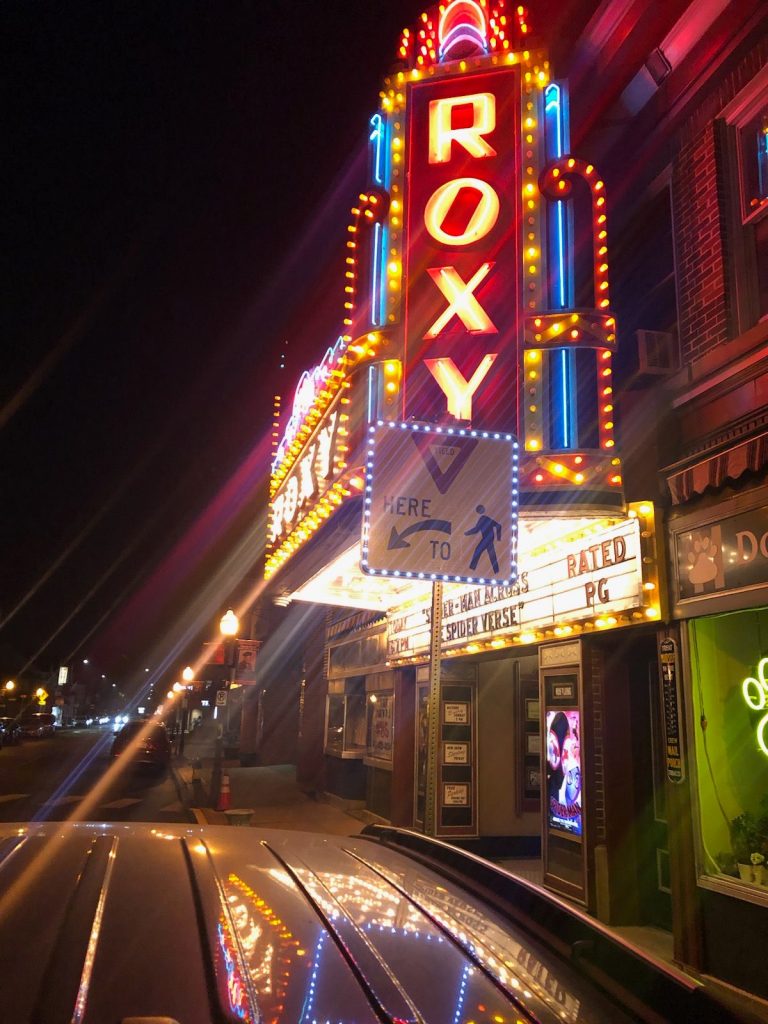 Richard Wolfe, owner of the historic Roxy Theatre for over 50 years, appeared before the Northampton Borough Council during their meeting on Thursday, July 6 to express concerns over a large crosswalk warning signal erected in front of the theatre's famous marquee. 
The flashing sign alerts pedestrians to a crosswalk at 20th and Main streets. However, it blocks what Wolfe said is the most photographed theatre marquee in the country and a source of pride to the borough. 
"[The sign is] distracting to the historical nature of the Roxy Theatre," he told council in a statement. "Do not take…away from something that is so important here to so many people."
Wolfe passed out photographs showing the sign blocking the marquee. Councilman Anthony Lopsonzski, Sr. said he was "flabbergasted" upon seeing the photos. 
"It is obtrusive," he said. "This theatre is world-known. It puts Northampton on the map."
Borough Manager LeRoy Brobst explained that all crosswalks must be legal and have appropriate signage; otherwise, the borough can be liable if a pedestrian is injured. The crosswalk was put there as a courtesy several decades ago but never made "official." Public Works installed signage to make it legal.
However, Brobst, Wolfe and Police Chief Bryan Kadingo said they have never been aware of a single pedestrian accident at this spot. In addition, there are already two legal crosswalks at 19th and Main streets and 21st and Main streets. Brobst said he discussed the issue with Public Works and had them remove the signage and block out the crosswalk paint, eliminating the crosswalk and restoring visibility to the theatre's marquee. Council could motion to have the crosswalk reinstated legally, but no councilmembers made that motion. 
"I'm glad to know that the visual experience of the Roxy marquee will not be diminished now," said Mayor Tony Pristash. "We have, truly, a diamond."
In other news, council approved the resignation of Christopher Frey from the wastewater treatment plant and road crew due to medical reasons. The borough will be looking for a candidate to fill his spot and complete training to be a certified operator at the plant. 
Council also appointed Jason Donohue as a council representative for the Fourth Ward. He was sworn in by Mayor Pristash. 
Council also approved a 15-minute parking spot at 1830 Main St. in front of J's Steaks & Subs. A parking meter will be eliminated to allow patrons to pick up their food without issue. 
Finally, new netting was added to the Canal Park baseball fields in the hopes of addressing concerns about home run balls from adult baseball leagues hitting homes and cars. A representative from the league said the netting may not be enough to block the home runs, but the teams are limited to two home runs per game to prevent these conflicts. Council will look for other options to alleviate these concerns for next season before new permits are issued. 
The next borough council meeting will be Thursday, July 20 at 7 p.m.