The sight of police officers gives many people a rush of intense feelings, whether it be feeling safe knowing they are there to protect our neighborhoods, relief if someone has wronged us, fear if we are engaging in unlawful activities, joy when we see them connecting with the community, concern when we are unsure what caused their presence, and so many others. 
Their job is undeniably one of the hardest, and yet, they continue to put their lives on the line every single day for people they have never even met before. 
To help the public understand what they do, three local police officers shared the ins and outs of what their careers are like and why they love what they do.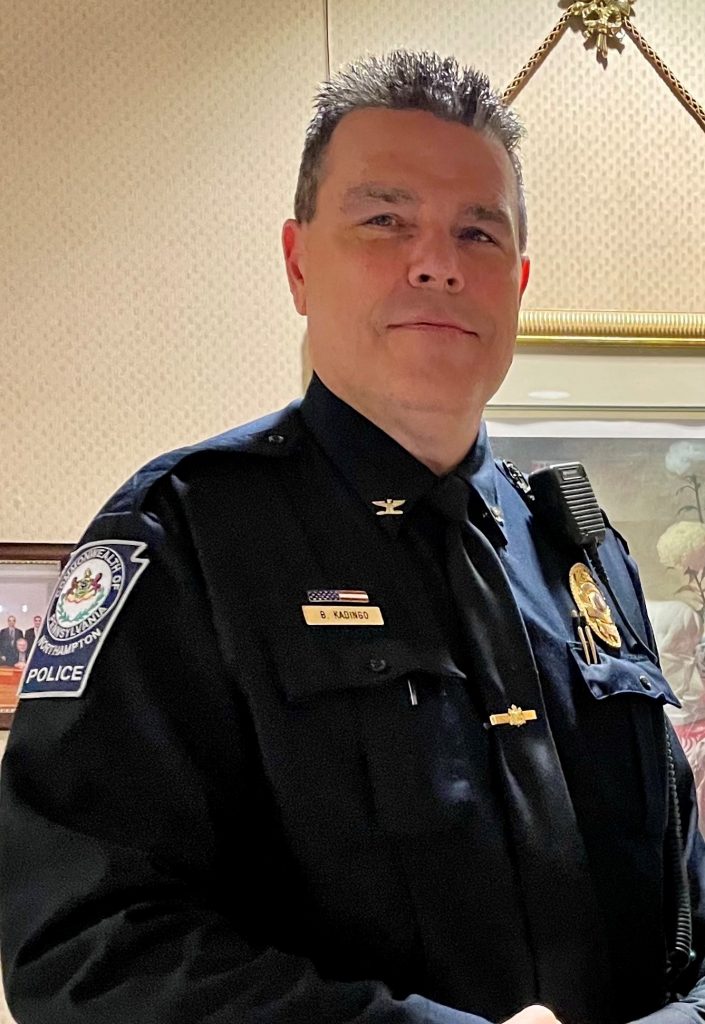 Police Chief Bryan Kadingo from the Northampton Borough Police Department is a Northampton resident who always knew that he wanted to be a police officer since he was a kid. So, in 1989, he started at the Allentown Police Academy and quickly landed a full-time position in May 1990 at the Northampton Borough Police Department, where he has been for the last 33 years, with this year marking his sixth year as chief of police.
Chief Kadingo shares that the perception of police usually revolves around what people see on TV shows or how they're portrayed in the media, and that a lot of people don't understand that there's also an emotional cost as a result of what police officers see on a daily basis.
However, what Chief Kadingo loves most about his job is that it's not the same grind every day. There are constantly new situations and new people, so he enjoys being able to think on his feet and the challenge of trying to bring a solution to a situation.
Admittingly, he also loves catching the bad guys, but explains that it can also be disheartening to see the way people treat each other.
Positive police presence appears especially important to Chief Kadingo as he divulges that the most rewarding things for him are interaction with kids in the community, interacting with the community, and the camaraderie among his fellow officers.
"I really enjoy coming to work every day with my men; they're like family to me," he shares.
Chief Kadingo states his advice for individuals that are thinking about becoming police officers or that are just starting out is that the job is what you make of it and to approach every person as if you're dealing with a member of your family that you're fond of.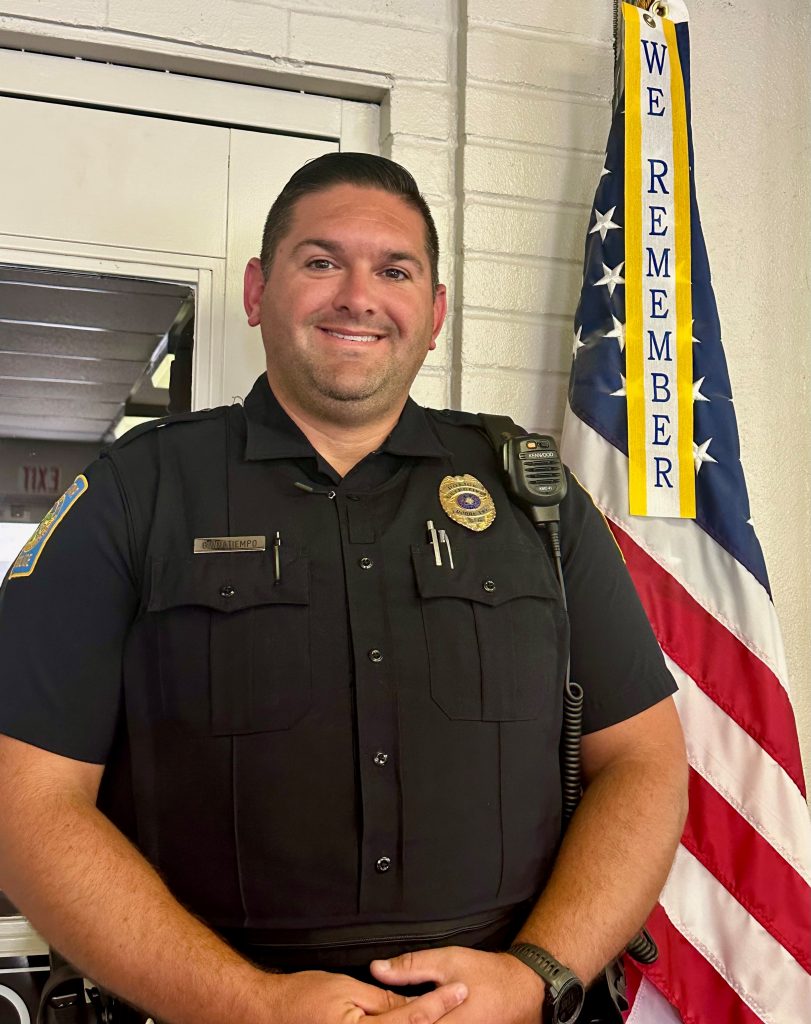 Detective Jason Gianatiempo of the Moore Township Police Department is a resident of Allen Township who also knew since he was a kid that he wanted to become a police officer. Coming January 2024, Det. Gianatiempo will have worked in law enforcement for 20 years.
After working as a part-time police officer for Moore Township Police Department since 2009, he was hired as a full-time officer in 2012 and shortly thereafter was promoted to detective, which he is extremely proud of.
Det. Gianatiempo divulges that when it comes to how the public perceives his job, TV shows tend to exaggerate things, which results in a misunderstanding of the capabilities and limitations of his job. 
"They portray that police work is easier than it is, but the public doesn't realize that they're actors," he adds.
Det. Gianatiempo beams that the most rewarding thing about his job is piecing together a good case, knowing that he did his job and that he did it right. 
Ultimately, Det. Gianatiempo's favorite part of his job is being able to help people and help victims get justice.
"Even when we give out a ticket, sometimes it helps because it can deter someone from doing something they shouldn't be doing over and over again," he shares.
When it comes to advice he would give to potential or new officers and detectives, Det. Gianatiempo advises not to bring work home and to never give up.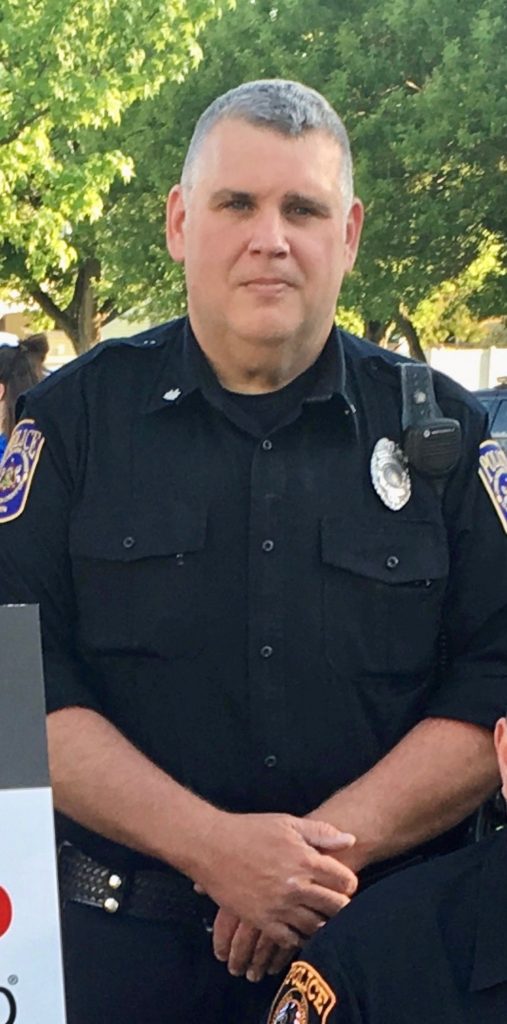 Officer Scott Greb of the Upper Nazareth Township Police Department is a Lehigh Township resident who also knew he wanted to enter into public service at a young age, which prompted him to attend the Allentown Police Academy in 1993.
However, before becoming a police officer, he enlisted in the U.S. Army from 1994 to 1998. Shortly after separating, Officer Greb became a police officer, which marks 25 years of service.
In terms of what the general public may not know about being a police officer, Officer Greb explains: "It's the sacrifices that we make for our community—time spent away from our family and friends on holidays, weekends, birthdays, anniversaries and so on."
Yet this sacrifice is something Officer Greb is proud of because what he likes most about his job are the interactions he has with people and the community, and being the person that they turn to and trust when they need help.
In contrast, the job also comes with its fair share of challenges that require him to remain vigilant because "you never know what the next call is going to be."
"We take the burden of witnessing some of the scenes that we do, but we shoulder that burden to protect others," Officer Greb adds.
Officer Greb advises individuals interested in becoming or starting out as a police officer to keep their eyes and ears open, have a good support system of friends and family, and know that they will have to make sacrifices.
So, next time you see a police officer in your neighborhood or community, get to know them! Ask them questions to clear up those misconceptions from binge-watching your favorite police dramas and thank them for their sacrifices because unlike their K-9 counterparts, they don't bite.