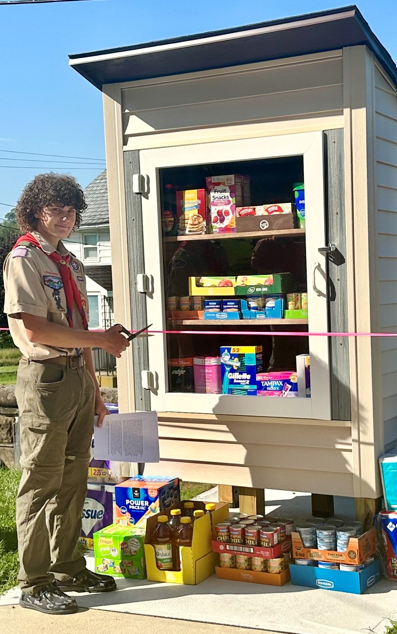 On Sunday, September 3, Life Scout Brayden Eckhart from Boy Scouts of America Troop 50 of Moorestown, held a dedication ceremony for his outside food bank Eagle Scout Service Project at Christ Church Little Moore U.C.C. with family, friends and fellow church members.
Brayden, 17, is a senior at Northampton Area High School and has been a Scout since he was in kindergarten. His favorite part about being a Scout is "getting to hang out with people and doing stuff" with his friends and troop members. 
Brayden spent 148 hours working on his project, building the shed-like structure and collecting food and other household items with the support of his fellow Scouts, family and friends.
After morning mass, church goers gathered around the completely stocked outside food bank that even overflowed around the structure in front of Little Moore Church as Pastor David Quinn provided the invocation for the dedication ceremony.
"Today we dedicate this shed that Brayden and his family have made. May the meaning we see in this live on in us to remind us that everyone around us has a hunger, and that it needs to be fed. You're all in need, so when you pass on to our children and our children's children that this might be here as a symbol of Brayden's and everyone's caring, and may it bless all those who receive or give to it," Pastor Quinn spoke.
Brayden then introduced himself and his project to observers after thanking everyone for coming to his Eagle Scout Service Project dedication.
"The reason I chose this as my Eagle Scout project is because I wanted to help the community I live in and the church I belong to. The purpose of this outside food bank is to let people pick up and drop off food when there isn't a member of the church available," Brayden shared.
In total, Brayden collected 226 pounds of food in May during a food drive that he held, and after purchasing building materials for the shed, he was also able to purchase 90 rolls of toilet paper, 42 rolls of paper towels, 393 feminine products, 130 laundry detergent pods, 105 dishwasher pods, 12 boxes of tissues, 52 razors, 12 cans of shaving cream, 22.5 pounds of cat food, 163 pounds of food and $100 in Aldi gift cards with the leftover money from his project.
Brayden expressed gratitude toward everyone that helped him with his project by donating supplies and monetary amounts, which included Koren Plumbing and Pump Service, Koren's Bait & Tackle, Krause Enterprises, Inc., Meyers Concrete Contractors, Miller Supply Ace Hardware, Perfection Landscaping and Lawn Care, Katie Best, Sherwood and Brenda Eckhart (aka Gram and Pop), Lydia Golas, Ann Koren (aka Nana to Brayden), and Bruce and Becky Wagner.
Brayden also thanked Little Moore Church for their support and for allowing him to do his Eagle Scout Service Project there, as well as his mom and dad (Megan and Aaron Eckhart) for their support, time and guidance before cutting the ceremonial ribbon to officially dedicate the outdoor food bank to Little Moore Church and its food bank, which currently helps feed 13 families in the surrounding area.
Looking ahead, Brayden is excited about earning his Eagle Scout rank sometime this fall during his Court of Honor ceremony, which is tentatively scheduled for November after the completion of his service project. He anticipates that becoming an Eagle Scout will help him get into colleges, apply for jobs and enter into the workforce in the future.
He also shared that one of his proudest accomplishments was getting CPR and AED certified for infants, children and adults, which aligns with his aspirations for college after he graduates and prospective future career opportunities.
Next fall, Brayden hopes to begin courses at Northampton Community College as he pursues a degree in medicine, whether that's in sports medicine, nursing or something along those lines; he hopes to figure that out once he begins his college courses.
For those that are interested in dropping off donations, Brayden's outdoor food bank sits in front of Christ Church Little Moore U.C.C., which is located at 913 S. Mink Rd. in Danielsville. Drop offs can also be arranged by calling 610-837-6051.