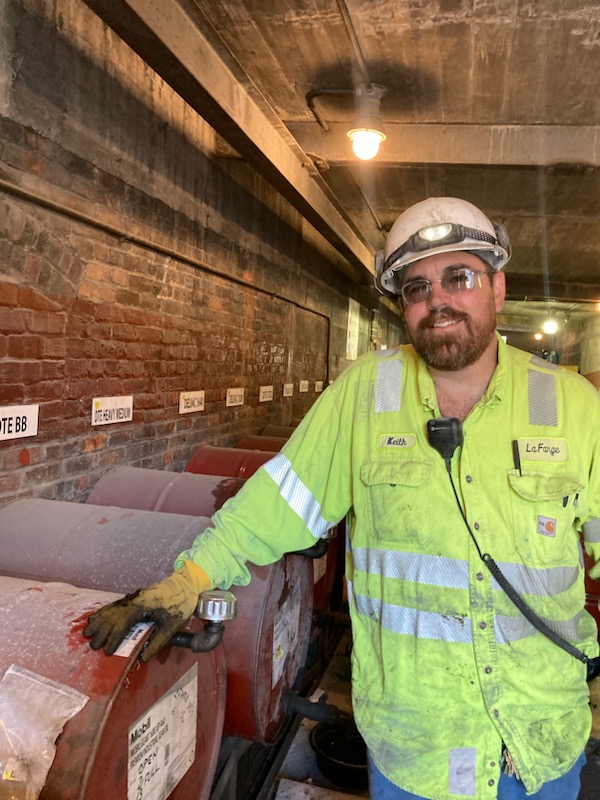 Mr. Keith Fegely was raised in Fullerton, graduating from Whitehall High School in 1995. 
He recalled, "I was a student at Lehigh Vocational Tech in the print shop. Our teacher Mr. Thomas Heil was a role model for our students." 
Keith's first employer was Quick Printing in Allentown and his salary was $6.20 an hour. He started his 23-year cement odyssey at Lafarge, now Holcim, on July 2, 2001 working on the tire deck at a wage of $10.20 an hour. 
Mr. Fegely's employment journey continued by working in the Pack House for 10 years, then transferring to the unloading station operating a front loader, moving tons of stone and material each day. 
Today he works in the maintenance department as a lubrication tech with partner Brian Schmall. 
Keith said, "We work throughout the plant seeing that the equipment works in a safe and efficient manner." 
Jack Heffelfinger and Dave Tomasic are former employees who shared their vast knowledge of the plant with Keith and his fellow employees. 
Keith enjoys his job each day, saying, "It gives me great satisfaction keeping the equipment in working order." 
He has a great respect for the history of the plant, which has been part of Cementon for 125 years. Keith works on classic automobiles and spends his spare time driving his sleek ATV. 
Mr. Fegely and his wife Karen are proud of children Kyla, Molly, Cassy and Caden. The friendly family resides in the Northampton Area School District. 
Keith is a friendly and dedicated cement worker and we wish him and all our friends at Holcim a safe and prosperous year.