On Saturday, October 21, the Moore Township Community Days Committee held their 7th Annual Trunk-or-Treat at the Recreation Center, with a total of 18 cars participating. Children, adults and furry friends were invited to dress in their best Halloween costumes, and there were lots of opportunities to win prizes.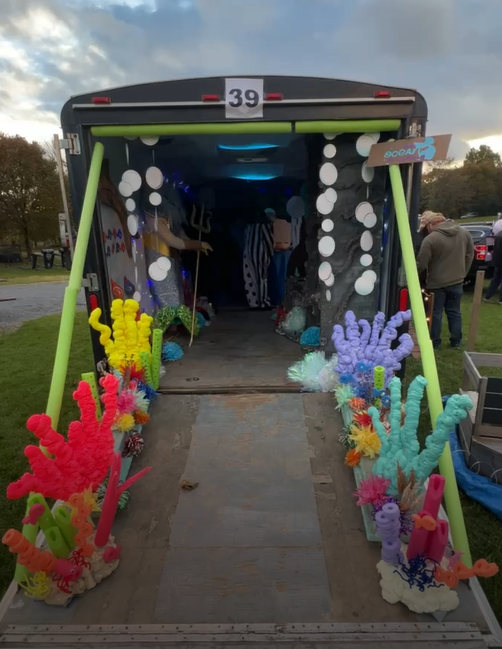 The overall winner, most creative and crowd-favorite trunk was the Mermaid Trailer by the Lentz family, which featured a walk-through trailer depicting under-the-sea scenes, complete with mermaids, moving parts and music. The scariest trunk was awarded to the Weidner family with their huge spider web and spiders. The DelBacco family won the Favorite Pet Costumes category and the overall favorite Adult Costumes category was awarded to the "King and Queen." There were so many contestants in the Child Costumes category that gifts were given to them all, however "Cleopatra" was a big winner.    
Additional contests held were a mummy wrap and a candy corn and pumpkin weight guessing games. Three teams won the mummy wrap competition and Finlay Hopton won the candy corn guessing challenge by guessing 508 out of 575 candy corn. Two pumpkin weight guessing awards were also given out, one to Bryan Mihalik who guessed 32 pounds, 6 ounces with a pumpkin weight of 32.8 pounds, and one to Jazmine Clausset who guessed 23 pounds with a pumpkin weight of 24 pounds. 
The Community Days Committee thanks the Moore Township Police and Moore Township Road Department for their participation in this event, and also all the volunteers and sponsors who made the annual event a success. 
The next event that will benefit Moore Township Community Days is a children's toy bingo on Sunday, December 3 at Klecknersville Rangers Fire Co. Doors will open at 11 a.m. and bingo will begin at 1 p.m. 
The Community Days Committee is always accepting new volunteers. If interested, please call 610-759-9449 ext. 5 for Lois, or contact any committee member at any event.