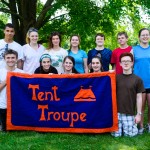 On Friday, July 12 the Tent Troupe comes to the baseball field at Emmanuel's Lutheran Church. On that day there will be two shows: a matinee for children at 1:30 p.m. and a full length evening presentation at 7:30 p.m. The matinee is entitled: "Folktales, Fables and Fun" (animal stories, songs and short stories). The evening performance will be "The Lillies of the Field," adapted for the stage. The shows are free of charge – a free will offering will be taken. Refreshments are available. Come early to make sure you get a seat!
You may want to come out after 8 a.m. on Friday morning to watch the troupe erect the giant circus style tent – its amazing to watch!
Tent Troupe is the only traveling summer tent theater of its kind in North America. Over the more than four decades, Tent Troupe has visited 29 states and Canada, approximately 450 different towns and touched the lives of more than 230,000 people.