By BILL HALBFOERSTER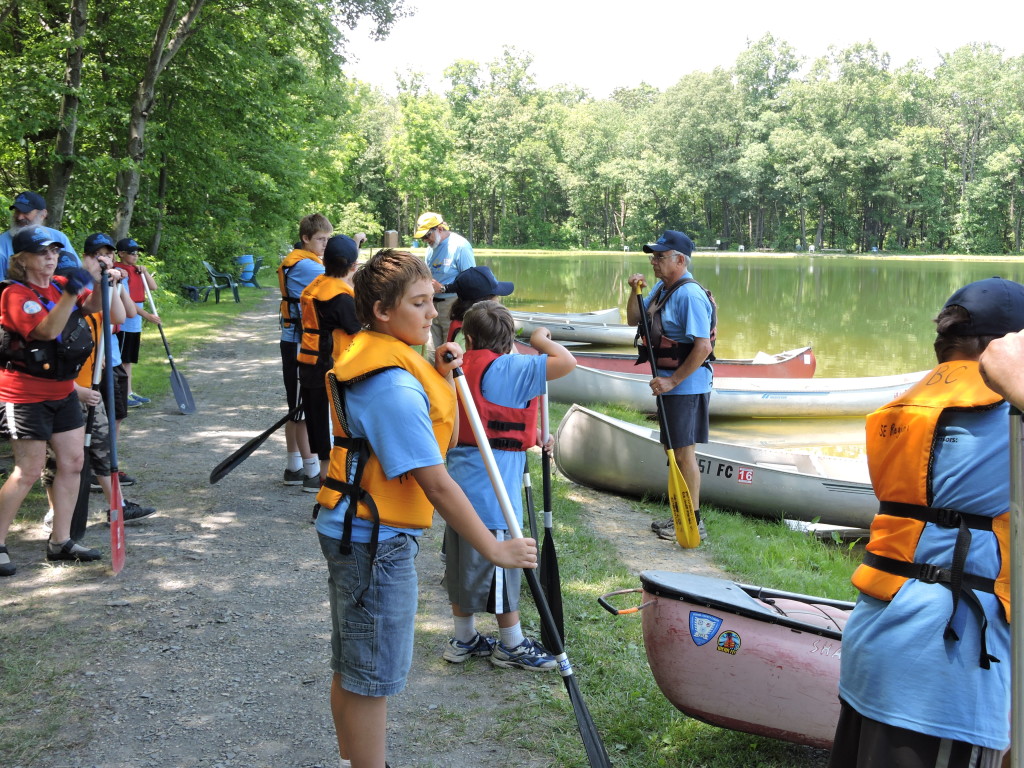 Group of youngsters are shown putting on their PFD's for boating safety.
Dave Simon instructed how to properly get into a canoe.      – Home News photos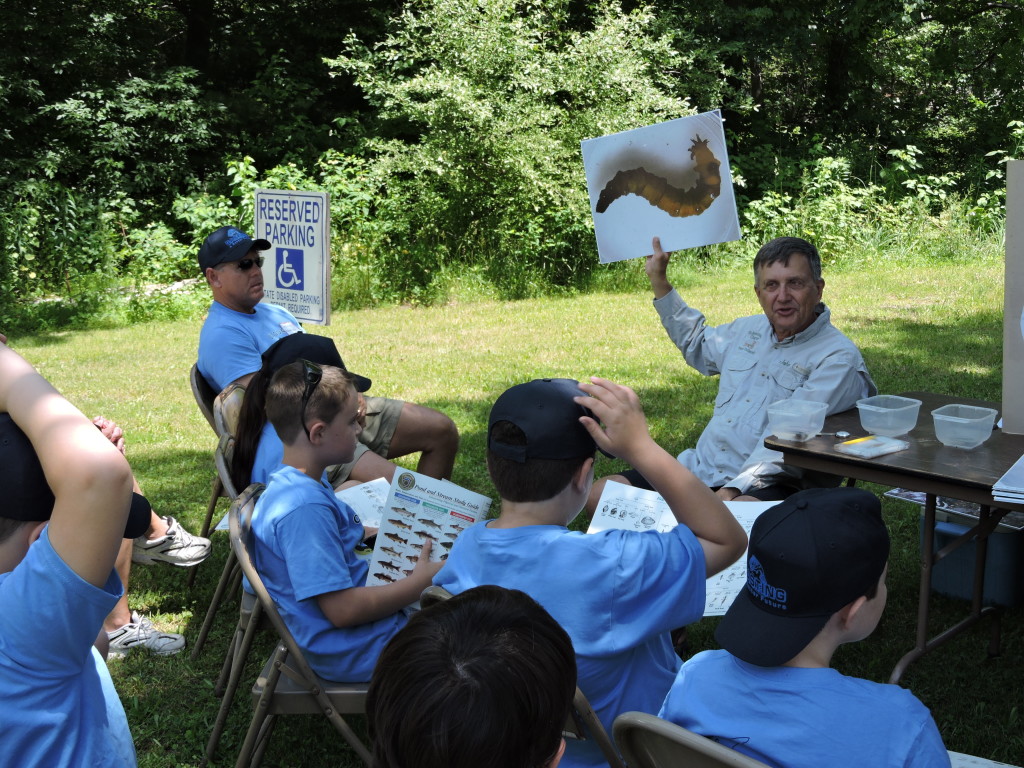 John Mauser led a program on insects that are not commonly known.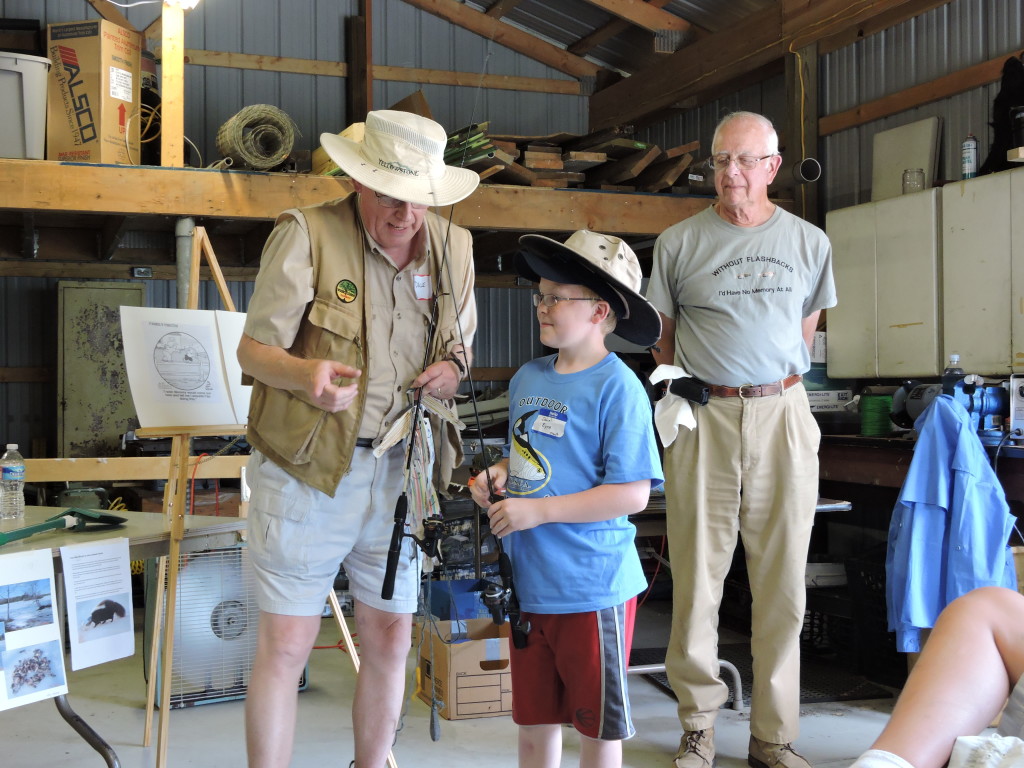 Dale Ott points out the good and bad in a skit about ethics with one of the students.
Eighty youngsters, aged 8 to 15, on Saturday participated in the eighth annual Outdoor Adventures, sponsored by the Delaware River Shad Fishermen's Association. Dave Carl led the event at Blue Mountain Fish & Game in Danielsville.
The boys and girls alternately went to ten stations on the sportsmen's club grounds, getting information and participating in hands-on events that included: fishing, canoeing, reptiles, aquatics, knot tying, casting, plant and tree identification, archery, ethics, and a mystery station on animal furs and tracks.
The adventures went on from morning to late afternoon. Blue Mountain F&G's lake was the scene of fishing and canoeing. At the latter volunteers from the National Canoe Safety Patrol taught the youngsters that they have to wear personal flotation devices (vests) whenever going out in the water, and to kneel down as they place their paddle as they enter the canoes. A member of the unit, which patrols the upper Delaware River, said 17 persons drowned in Pa. last year in boating accidents because they weren't wearing their PFD's.
 John Mauser of the Hokendauqua Chapter of Trout Unlimited showed insect creatures called macroinvertebrates, and the children were able to touch them.
Dale Ott and Dale Steventon led a program on ethics that they said are essential when hunting and fishing. The youngsters learned about respect, responsibility, being lawful, careful and safe, courteous to others, and being involved and knowledgeable. Skits that were put on brought out these points, especially adhering to regulations that limit the amount of trout caught and the dangers of carrying or shooting loaded guns out of cars.
Volunteers from Blue Mountain Fish & Game and other sportsmen's organizations served as mentors for the children.  Norman Graver served as announcer as the children went from station to station at designated intervals.
Carl told the parents of the upcoming Northampton County Jr. Conservation School, and the lessons that last a lifetime. Judi Riegel was present to take applications.
Thanks was expressed to Indian Creek Farm, Danielsville, a supporter of the DRSFA program since the beginning, and to Walnutport Subway for the noon time lunch that was provided for well over 100 persons at the club.  Each of the children received a t-shirt with the picture of a shad on it. Also given out was a literature bag containing copies of the Outdoor News.
Group photos were taken of the boys and girls, who were in teams called trout, shad, walleye, perch, musky, bass, sunfish and catfish.
Carl was especially thankful for the great weather. Last year it rained quite a bit. "I couldn't believe it would be this nice," he said.