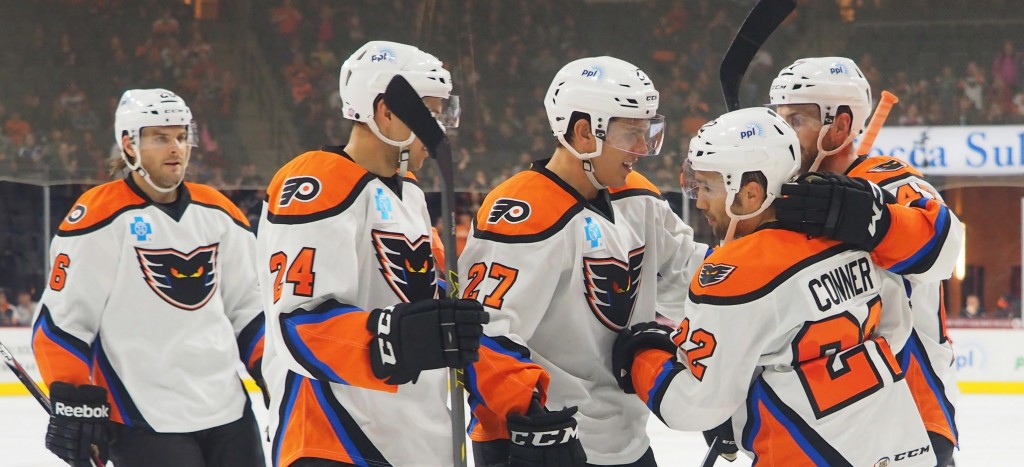 Chris Conner (#22 on right) is congratulated by teammates following one of two goals he scored Wednesday night. Conner has since been called up to the Philadelphia Flyers.  -photo by Nina Weiss
Nine games into the regular season, the Lehigh Valley Phantoms (4-5-0-0) have faced their fair share of adversity.
Of the 24 guys who started the season on the Phantoms roster, eight have spent time on the team's injured list – the latest of which is to last year's leading scorer Nick Cousins, who was visibly dazed after being hit up high in the third period of last Friday's game. Cousins missed Sunday's game and his status moving forward into this week isn't yet determined.
They've also had a ninth injured player in newcomer Evan Rankin, who took a puck to the neck from a slap shot of teammate Shayne Gostisbehere last Friday night. Rankin missed Sunday's shootout win over Hershey, but the forward is expected to return to the Phantoms' lineup this weekend according to head coach Scott Gordon.
Then there's forward Chris Conner, who has been a bright spot on this Phantoms roster amidst all the injuries. Conner tallied two goals Wednesday night in a 5-1 win over the St. John's IceCaps and through the team's first eight games has four goals and four assists. Conner was called up to the Philadelphia Flyers before Sunday's game against Hershey, as the NHL club needed an extra forward for their road trip in Western Canada.
"That's kind of been our M.O., we have certainly had our share of injuries. We'll at least get some bodies back soon," Gordon said after Friday night's 3-2 loss to St. John's about all of the injuries limiting the team's lineup.
One of those bodies returning to the lineup was speedy forward Danick Martel, who returned to action on Friday night after missing the team's previous five games. Martel tallied an assist in his first game back before recording a goal and an assist in Sunday's wild win over Hershey.
The Phantoms let a 4-1 lead in Hershey slip away Sunday but after a strong penalty kill in overtime got the game to a shootout, the Phantoms pulled away with two points after Kevin Sundher scored in the bottom of the 10th round to seal the victory for Lehigh Valley.
The injuries have given other guys an opportunity to step up and make an impression, and Sundher is a perfect example of that. After Conner was called up by Philadelphia, the Phantoms added Sundher to a professional tryout contract (PTO) just hours before Sunday's game.
"It's something I'm comfortable with. In junior, I was always the guy to take shots in the shootout," Sundher said after Sunday's win at Giant Center. "I just wanted to go out there and make my move. [Taylor] Leier did the same thing earlier in the shootout, so as soon as that happened I knew it was probably going to be there. I did it and it worked."
The Phantoms are looking to build off of wins in two of their last three games with a week of practice ahead of themselves before a three-game weekend, which starts Friday night at home in a rematch against rival Hershey. Lehigh Valley will then travel to Syracuse, NY Saturday night for a meeting with the Syracuse Crunch before returning home to host the Binghamton Senators on Sunday evening.
You can follow the action of every Lehigh Valley Phantoms game with full coverage of the team both at home and on the road by following Tony on Twitter -> @TonyAndrock_TCG.