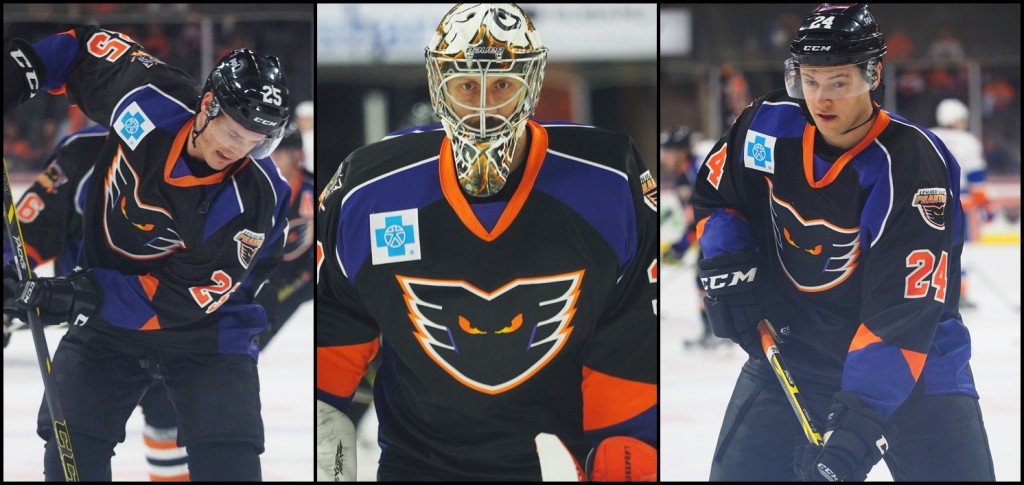 Nick Cousins (left), Jason LaBarbera (middle) and Petr Straka (right) need to lead by example in four road games this week to get the Phantoms on the right track. -photo by Nina Weiss
The Lehigh Valley Phantoms enter a crucial stretch of games as the calendar year ends and the halfway point of the 2015-16 season approaches. The team is still battling to get above the .500 mark for the first time this season and can do so with a successful week to finish off their five-game road trip, which started on the right foot Sunday with a 3-0 win over Wilkes-Barre/Scranton.
"I think it was a gutsy effort," defenseman Andrew MacDonald said after Sunday's win in Wilkes-Barre. "It wasn't perfect, but sometimes you have to grind these games out and get the win."
At 15-16-1-0 entering this week's slate of games, the Phantoms need to do just as MacDonald says – find ways to win games and string together some wins to move up the standings. Lehigh Valley heads to Binghamton Tuesday night and Hershey on New Year's Eve before finishing the road trip with a pair of games this weekend in Portland against the Pirates on Saturday and Sunday.
In order for the Phantoms – or any hockey team – to be successful, the team's top players must be on top of their game. In the Phantoms' win on Sunday, they got goals from MacDonald, Petr Straka and team-captain Colin McDonald with a game-high two assists from the team's leading scorer Nick Cousins.
"We had our time at home. We knew it was coming," Cousins said of the upcoming road trip. "We were fortunate enough to have the break [for the holidays], so five on the road and everyone is rested. We're going to get some bodies back and be ready to go."
LaBarbera Proving His Worth
It had been mostly a season to forget for veteran goaltender Jason LaBarbera as the team entered a week-long break for the holidays. The 16-year pro had missed five weeks with an injury and simply wasn't getting the results he had hoped for, especially in the Phantoms' final game before the break – a 2-1 loss to the Binghamton Senators in a game in which LaBarbera played well and stopped 30 of the 32 shots he faced. An unfortunate bounce with 2:20 left in that game proved to be the difference.
"That was certainly a tough pill to swallow," LaBarbera recalled of the loss to Binghamton before the break. "We played well and like how it's gone all year – it just didn't bounce our way."
Still, LaBarbera played well despite picking up the loss – dropping to 1-7 on the season.
"I've been around long enough. It's certainly gets frustrating when you're not winning," LaBarbera explained, adding, "You're playing okay, but things aren't going your way."
In Sunday's 3-0 win over the Penguins, everything went LaBarbera's way. The Phantoms' goaltender was peppered with pucks, but stopped all 35 shots he faced for his and the team's first shutout win of the season – a rewarding moment for the veteran goalie and perhaps something that will get him back on track.
"It's good for the guys in the room, I think, to see that I can still play and still contribute," LaBarbera said after Sunday's win. "For me that's the biggest thing. Always have faith in yourself. At this point in [my] career, it's just good that the guys in the room can see it."
Straka Scores League-Leading 16th Goal Sunday
Petr Straka took the league by storm in November, tallying a goal in six straight games and climbing up the league's goal-scoring leaderboard. Straka finished the month with 10 goals in 13 games.
December hasn't been as kind to the Czech-born forward in his third season with the Phantoms – just one goal in 10 games. That was before Sunday's win over Wilkes-Barre, where he tallied his league-leading 16th goal of the season late in the second period. On the power play, Straka took a pass from Cousins and fired a shot on net that deflected off a defender's skate and changed direction on its way past the Penguins' goaltender Brian Foster.
"I've had some great chances the last couple of games and the goalies have made great saves," Straka said after Sunday's game. "Usually it comes with an ugly goal, so I got one now and hopefully gets me going again."
Despite cooling off from his torrid pace in November, Straka's 16 goals on the season are still tops in the entire American Hockey League (AHL). While he doesn't mind being the league's leader, it's not something he's really thinking about.
"I don't really look at it. It's nice to be up top but my goal is something else," Straka said of being the AHL's leading goal scorer. "I'll just be happy if they can keep coming and get me where I want to be."