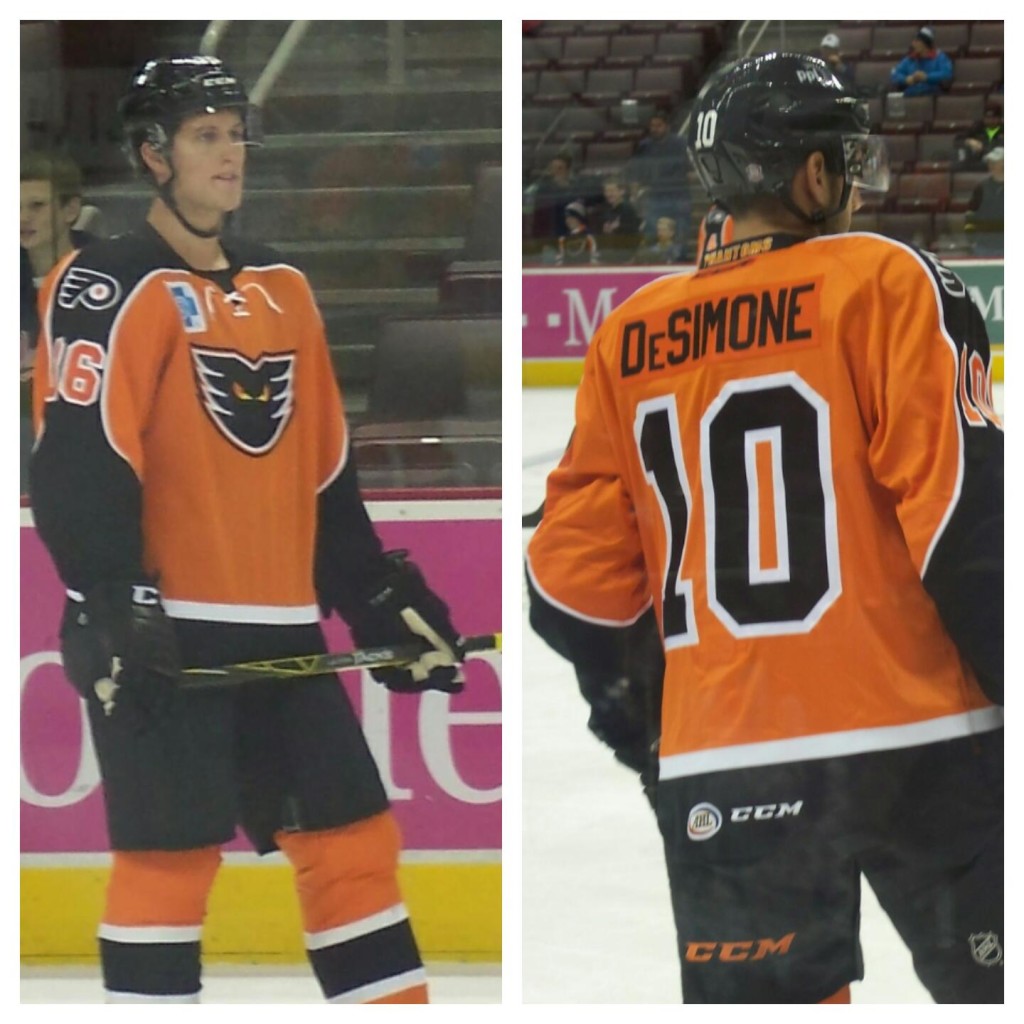 Adam Comrie (left) and Philip DeSimone (right) both look to help Lehigh Valley down the stretch.
The Lehigh Valley Phantoms had two new faces join their team before arguably their busiest week of the season, which started with a thrilling 6-5 shootout win over Atlantic Division rival Hershey on Monday night at Giant Center.
An injury in Philadelphia to forward Sean Couturier saw Sam Gagner called back up to the Flyers last weekend and Phantoms defenseman Matt Lashoff was released from his professional tryout contract. In turn, the Phantoms called up defenseman Adam Comrie from their ECHL affiliate Reading Royals and signed forward Philip DeSimone to an AHL contract. The corresponding moves by Lehigh Valley add some depth as the team is in the midst of four games in six days before the 2016 AHL All-Star Classic at the end of the month.
Comrie Returns to the Phantoms' Blue Line
Adam Comrie, 25, appeared in 40 games with the Lehigh Valley Phantoms last season, joining the team in late December and recording 18 points (five goals, 13 assists) in those 40 games in the second half of the season. This season, he joins the Phantoms in late January with 34 games left on the AHL club's schedule.
"It feels good to get another opportunity here," Comrie said of his latest chance with the Phantoms following Monday night's win in Hershey. "I think I worked hard this season to earn my spot here, and it was definitely an entertaining game both in scoring and defending. It was hectic out there and a lot more movement. [There were] more plays in the offensive zone and it makes it a lot more fun," he added after his first game back in the AHL.
While with the Phantoms' ECHL affiliate in Reading, Comrie has been putting up a lot of offense from the back end – leading all ECHL defensemen in goals (15) and points (34) in 39 games this season before being called up to Lehigh Valley. He attributes consistency, hard work and ice time as factors to his success with Reading this season.
"I've been able to play a ton, playing in every situation – power play, penalty kill, 4-on-4," Comrie recalled of his increased ice time in Reading. "It's been a good opportunity to take on a bigger role this year and I think it's going to help out in the long run."
With an injury to veteran defenseman Andrew MacDonald and the Phantoms dressing a lineup that features seven defensemen instead of the more traditional six for the past few games, Comrie was able to get right into the lineup Monday night. He's certainly hoping to help the team win and stick around down the stretch.
"I think I just need to keep doing what I've been doing and not look back," Comrie said of his current opportunity with the Phantoms, adding, "Just stay consistent, work hard and stick to what I've been doing – not get down but stay positive, bring energy and do everything that I can."
DeSimone Back Playing Hockey in North America
Philip DeSimone, 28, joins the Phantoms' forward core after spending the better part of the last three years playing professional hockey overseas, most recently in Austria with Graz EC where he was fourth on the team in scoring with 22 points (nine goals, 13 assists) in 39 games.
"I've played the last three years over in Europe, but I'm looking forward to coming home and playing again," DeSimone said of returning to the U.S. to play hockey in his native country.
It's not too often a guy joins an AHL team this late in the season, especially coming from one of the European pro leagues, but nonetheless the West Amherst, New York native is closer to home and back in the AHL.
"This year it just worked out and seemed like the right thing to do," DeSimone said of his decision to return to North America. "It's definitely what I want to do. I was fortunate enough to have an opportunity with the Phantoms and now I'm here."
While it's certainly difficult for a new guy to come into the locker room and assimilate himself with his new teammates, DeSimone says the hockey world is small. He actually lived with current Phantoms forward Aaron Palushaj in Hamilton during DeSimone's rookie season of pro hockey back in the 2011-12 season and knows Palushaj well, having also trained with him in Connecticut one offseason during the summer.
DeSimone played his college hockey at the University of New Hampshire and for one year he played with current Phantoms forward Kevin Goumas, who was a freshman at UNH when DeSimone was a senior. Knowing some guys in the locker room well will certainly ease the transition and in fact, DeSimone made his Phantoms debut on a line with Palushaj and Goumas Monday night.
"I'd like to show how I've matured in my game and progressed over the three years I have been gone," DeSimone said after his Phantoms' debut Monday night in Hershey. "To come back and try to contribute to this team whichever way I can to help out and help this team make the playoffs."
Up Next 
The Phantoms host the Binghamton Senators on Wednesday night, before concluding the week with a home-and-home series with Atlantic Division leading Wilkes-Barre Scranton Penguins Friday night at home and Saturday on the road. All three games start at 7:05 p.m. ET.
You can catch all the action with live in-game updates on Twitter -> @TonyAndrock and daily coverage online on Tony's blog Highland Park Hockey.