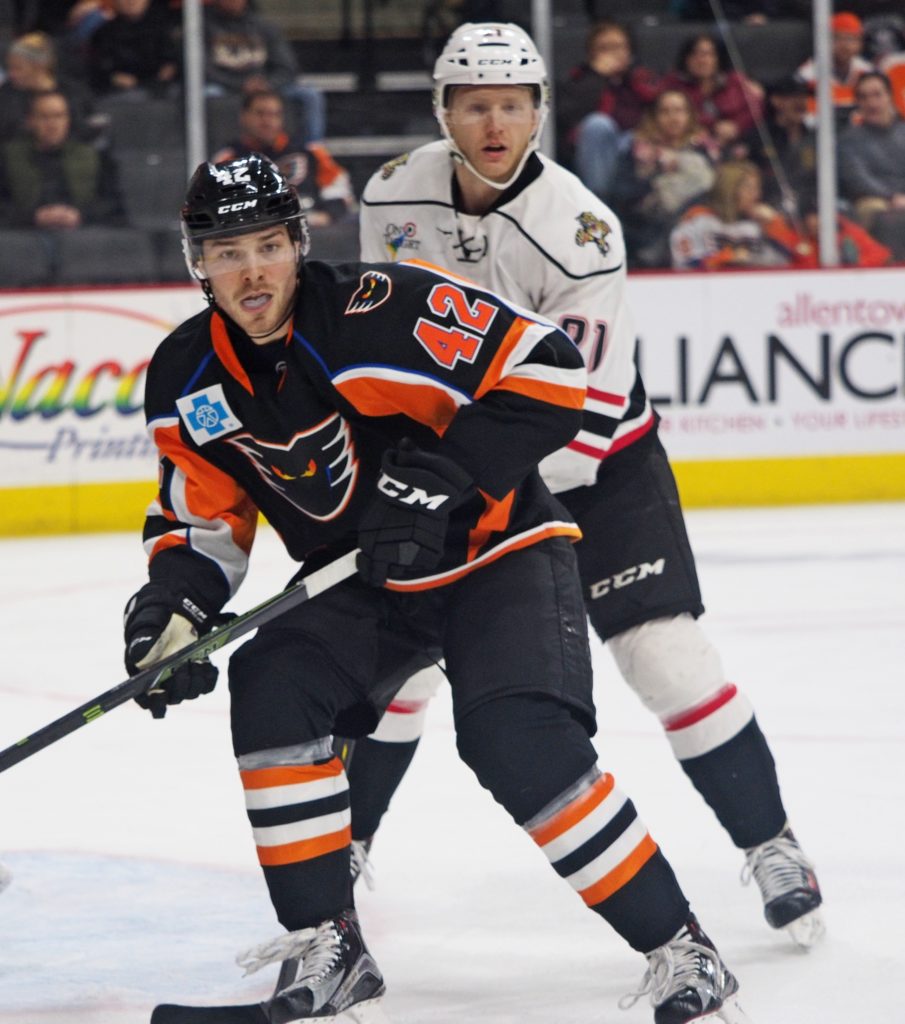 Steven Swavely will have a chance to make the Phantoms' roster this fall. Photo: Nina Weiss/The Home News
The Lehigh Valley Phantoms made their first transaction of the off-season around Memorial Day weekend, signing Reading, Pa. native Steven Swavely to an American Hockey League (AHL) contract for the upcoming 2016-17 season.
It is the forward's first professional hockey contract following his four-year career at the University of Maine and 15-game stint with the Phantoms on an amateur tryout (ATO) last spring.
"As a kid you always dream about playing professional hockey," Swavely explained via phone to The Home News. "I got a nice taste of that last year with the 15 games that I played. That little taste leaves you wanting more and more so to sign a contract, for me, was pretty cool. I'm just looking forward to the opportunity. When hockey is your job, it's ideal."
Growing up in Reading – an hour and a half outside of Philadelphia – makes signing a contract with the Flyers' AHL affiliate even more meaningful to Swavely and his family.
"I've been to Royals, Phantoms and Flyers games. My whole life I've been a big, big Flyers fan," Swavely said, adding, "Being in the organization now and being able to play so close to home – I had about 25-30 family/friends at PPL Center for my first game – it's a dream come true to be staying local and playing in the Flyers organization."
After a 19-point senior season (nine goals, 10 assists) with the University of Maine Black Bears, Swavely joined the Phantoms on an ATO – appearing in the team's final 15 games and tallying three goals. While his role and ice time was limited in his pro debut March 12th in Hartford, he quickly gained the trust of the Phantoms' coaching staff and was a regular on the penalty kill down the stretch.
"You get more comfortable with time there. Those first couple games were pretty nerve-racking," Swavely recalled of his AHL debut. "You never know what to expect going from college to pro. Once you really start to set in and realize you can actually play at this level, you gain more confidence and when you play with confidence it shows."
Swavely finished the season with goals in back-to-back games, very much looking like a regular everyday AHL player. Head coach Scott Gordon was very complimentary of Swavely's play in the final weeks of the season and according to Swavely, the head coach gave him the pros/cons of where his game is at and what he needs to work on during his exit interview before the offseason began.
"We talked about shooting in the box all the time, a quicker release," Swavely said of Gordon's message. "There's always little things you can work on every summer."
Swavely's skill set was nearly an instant fit for a Phantoms team that at the time was lacking depth on the third and fourth lines. His style of play allowed him to get a 15-game taste of AHL hockey that will ease his transition to the pro ranks on a full-time basis in the 2016-17 season.
"Every team you go to, there's a role you have to play. I've always been a center, for the most part of my career, that can win face-offs and kill penalties," Swavely said of his strengths. "I knew coming in that face-offs and penalty kill were going to be something I had to do with the Phantoms. It's something you accept, and you do with pride to the best of your ability."
With the addition of Swavely to the mix for the Phantoms, Lehigh Valley already has quite a few forwards returning to the AHL next fall. What that means for the Reading, Pa. native is he will have to compete for a spot on the roster during the Phantoms' training camp in September.
"At this level, nothing is given to you so I know I am going to have to earn that spot," Swavely said. "It starts in the summer with training, and that will carry over to training camp and then the first couple of practices. Hopefully, I can earn that spot. I'm looking forward to it."
You can follow all the latest Lehigh Valley Phantoms breaking news, updates and much more during the offseason by following Tony on Twitter -> @TonyAndrock and by visiting his daily online coverage of the AHL at Highland Park Hockey.