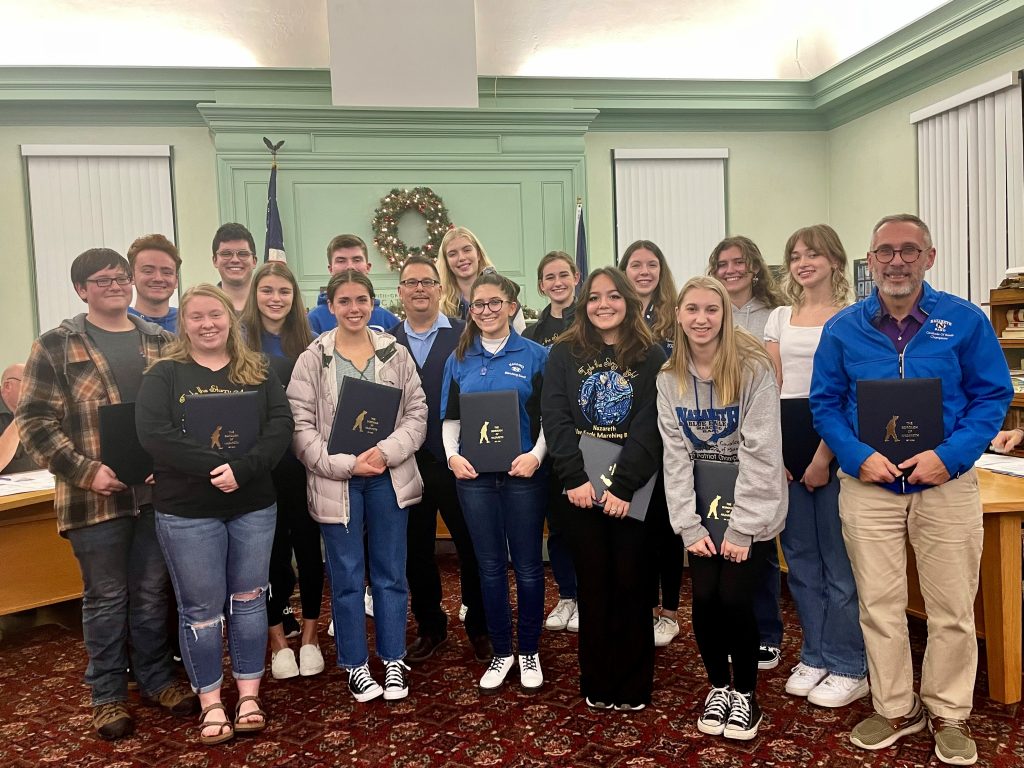 On Monday, January 2, Nazareth Borough Council kicked off the new year by congratulating the Nazareth Blue Eagle Marching Band on their tremendous 2022 undefeated competition season and the seven championships they have won.
Mayor Lance E. Colondo presented the marching band and Band Director Rick Hilborn with a resolution from council that recognized and publicly honored the band director, band officers, band members, color guards, drum majors, student conductor, band front, and the support staff for their recent championships and incredible successes at the state and regional levels.
"Nazareth Borough Council thanks Band Director Rick Hilborn and the parents of the band members who have supported this group of talented musicians, and who have helped make all of these successes a reality. Each year, Nazareth Borough Council invites the Nazareth Blue Eagle Marching Band to headline on Memorial Day and Halloween parades, and each year they are unquestionably the musical highlight for those events," Colondo continued. 
Mayor Colondo added that the council congratulates the marching band on their successes and thanked them for making Nazareth proud.
Band Director Rick Hilborn expressed, "We had a great year. We had tremendous effort on everybody's part and really going above and beyond the level of dedication, and that's really why we are where we are. So, thank you for your leadership and thank you to all the band members."
Council also honored Hilborn's retirement with a resolution for his many years of directing the Nazareth Blue Eagle Marching Band, the Middle School Band, and the Nazareth Orchestra in addition to teaching music and other associated skills to students.
Mayor Colondo presented the citation for Hilborn's role in enriching the lives of Nazareth's children, students, and residents upon the retirement of his distinguished and very productive career where he led the Nazareth Marching Band to three competition overall seasonal championships and new levels of regional prominence. 
"Rick Hilborn has been an inspiration to all and has received honors that include being named as one of the 300 nationwide band directors chosen to march in the 2022 Rose Parade. Beloved by his band members, news of his retirement had been labeled his final competition season as the 'Rick Hilborn farewell tour.' Championship and every event they entered a seasonal championship was Rick's retirement present," said Colondo.
Nazareth School District Superintendent Richard R. Kaskey also provided a heartfelt message to Hilborn, stating that he was very proud of the marching band students and Hilborn. 
"It's a very important position and I think it's going to be one of our toughest hires to replace this gentleman and I know how much hard work everybody puts into the band. You don't realize the countless hours these children and these musicians put in day in and day out, so I appreciate that effort. Rick, thank you for mentoring all of these youngsters," Kaskey shared.
Councilman Christopher D. Crook also offered an emotional message to Hilborn for his mentorship to the students he has taught throughout the years (including his own children), which he admits has been an amazing gift to Nazareth and fellow parents.