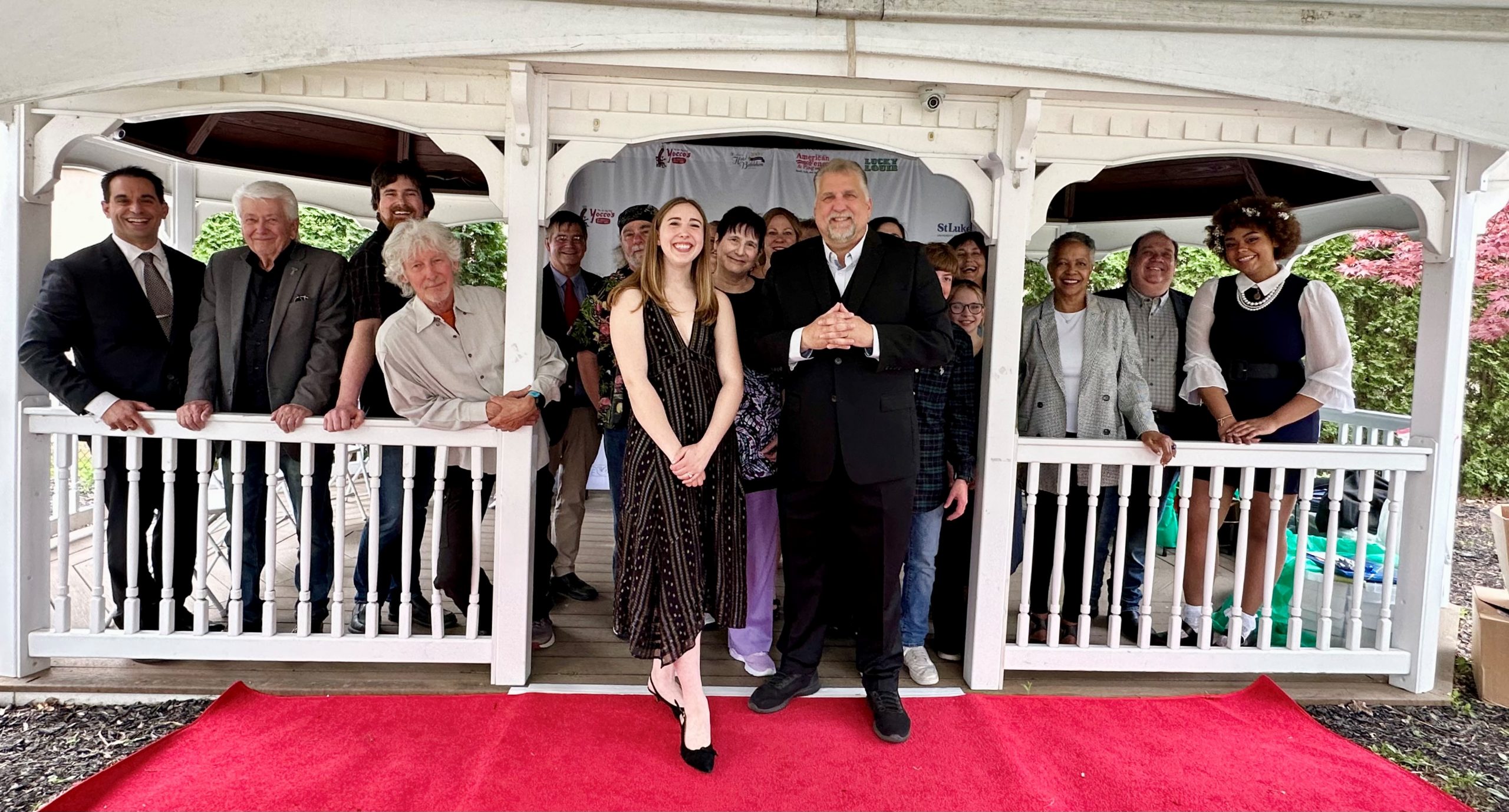 On Saturday, April 22, the Roxy Theatre in Northampton held two sold-out shows and meet-and-greets for Bethlehem native Daniel Roebuck's faith-based film "Lucky Louie" alongside the film's cast.
As moviegoers lined Main Street for the premiere, the cast was all smiles as they greeted excited guests and posed for photos at the red-carpet event before both shows.
The movie, which was filmed all around the Lehigh Valley in 2020, opened with a short clip in memoriam of Basil Hoffman who plays retired police officer Wilbert Moser in the film. In the clip, Hoffman, who passed away Sept. 17, 2021, shares: "Danny [Roebuck] is a very special person, and he's been a special gift in my life."
"That's a hard act to follow," Roebuck expressed as he introduced the film alongside daughter and co-director Grace Roebuck.
"Lucky Louie" opens with masked robbers Huey, Dewey, Louie, and Uncle Donald arguing in the car while on their way to rob Merchants National Bank in 1972, which went down in history as the "Donald Duck Robbery," and remained unsolved for five decades. 
Then, the audience is transported back to present day as ex-cons Hitch (played by actor and director Daniel Roebuck), Pete (played by actor Willard E. Pugh), Payton (played by actor Duane Whitaker), and Lincoln (played by actor Patrick Voss Davis) are joined by retired police officer Wilbert Moser (played by the late Basil Hoffman) for their weekly Bible study at Barney's Café.
We soon find out that Wilbert, who previously arrested Hitch, Pete, and Payton, helped them find God, repent, and stay on the straight and narrow, making sure they all got a second chance.
Wilbert tries to tell the guys about a dream he keeps having about a bank robbery where the robbers got away with $350,000, but they've all heard about it a million times and are tired of listening to Wilbert talk about it, which makes Wilbert momentarily decide that he's done obsessing over the unsolved Donald Duck Robbery.
Alex D'Ambrosio (played by actress Madelyn Dundon), a forensic psychology student working on her graduate thesis project, is assigned the Donald Duck Robbery and introduces herself to Wilbert to ask him to help her crack the case.
As the group begins interviewing witnesses from the robbery with the help of Pastor Mimi (played by actress Stephanie Zimbalist) and Barney (played by actor Timothy E. Goodwin), they find that no one knows who Uncle Donald's and Louie's real names are or what happened to them and the money after the robbery.
Suddenly, Wilbert ends up in the hospital and the group is worried about him. Alex and Hitch decide to go to his house to feed his cat while he's in the hospital, and Alex finds a room in the basement that is dedicated to the bank robbery.
Hitch comes up with the brilliant idea to rob a bank and runs it by Pastor Mimi who jumps on board once she realizes he means that he wants to recreate a mock bank robbery to figure out where the money went.
Everyone in the community quickly gets behind Hitch's mock robbery and they all have fun playing their part in the pretend bank robbery.
At the hospital, Alex shows Wilbert the footage of the actual robbery alongside the footage from the mock robbery and it dawns on Wilbert who Uncle Donald is. Alex and Wilbert gather everyone together at Barney's Café and Wilbert compares the robbery to a magic show that Uncle Donald meticulously planned out.
Wilbert tells the town that the Donald Duck Robbery was an inside job, and that Uncle Donald is sitting in the very room with them.
Wilbert reveals that Uncle Donald is… You'll have to see the movie to find out! 
"Lucky Louie" is a treat for the whole family that will have you laughing and keep you guessing right up until the very end.
After the film, Roebuck revealed that his grandfather's name was Wilbert Moser and that he heroically gave his life at the Battle of the Bulge, so Roebuck snuck his name into the film as a way to honor him. 
During Q&A, an audience member asked Roebuck alongside wife Tammy and daughter Grace about the highs and lows of working together as a family. Grace responded that a high for her is the first day on set because pre-production is extensive, so bringing the film to fruition is special, and a low for her would be the last day on set because that day for her is sad to have to wrap everything up and go into post-production.
When asked about his upcoming film "The Hail Mary," Roebuck expressed that the film is "quite epic" and will hopefully premiere this fall. The film is another Lehigh Valley faith-based comedy produced by A Channel of Peace about a nun named Sister Kathy who finds an angry loner in need of redemption and leads him to his atonement by conning him into creating a football team, for her all-boys Catholic school.
The Roebuck dad and daughter directing duo are already working on their next upcoming film about four older retired veterans, an insolent kid who defaces the veterans cemetery, and how they all change each other, which they are currently seeking donations for on the A Channel of Peace website.
"Lucky Louie" will open Friday, April 28, and will be playing at the Roxy Theatre, Becky's Drive-In, Frank Banko Alehouse Cinemas at the ArtsQuest Center, Civic Theatre 514 in Allentown and the Boyertown State Theatre.