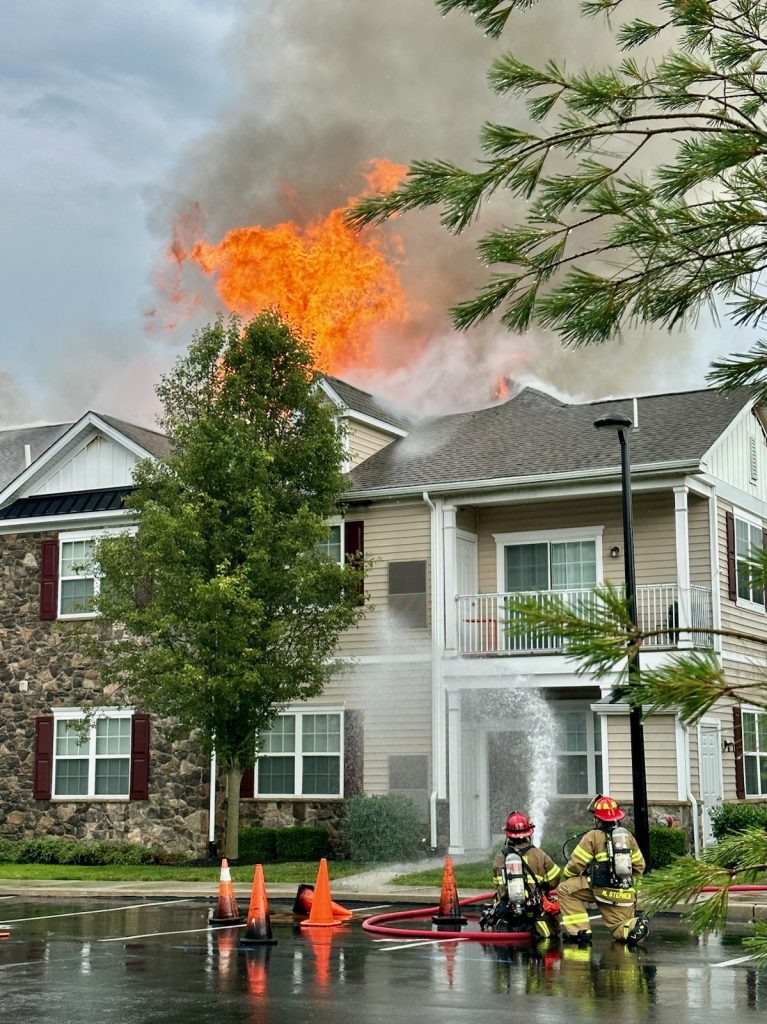 Around 12:35 p.m. on Friday, June 16, firefighters were called to the scene of a three-alarm high occupancy fire in the 410-building residing at 410 Stone Ct. and 410 Harrison Ct. at The Residences at Willow Ridge apartment complex in Allen Township.
During a thunderstorm, several residents expressed they heard a lightning strike, which shook nearby apartments and the office building.
"I've never heard anything like that in my life. It was so loud that it sounded like a bomb went off," said one resident.
"It shook the office and caused the burglar alarm to go off," shared Assistant Property Manager Marissa Weighknecht. "I came out to go grab my dog because someone said they saw the lightning by my apartment, and he was home alone. But when I came out, one of the people working on our electric panels was here, and he said 'you need to call 911.' I could see smoke coming out of the building, but someone had already called [911] because they were already here."
"I had to call all of the residents in that building and it was horrifying because I had to leave voicemails for a lot of them," added Weighknecht.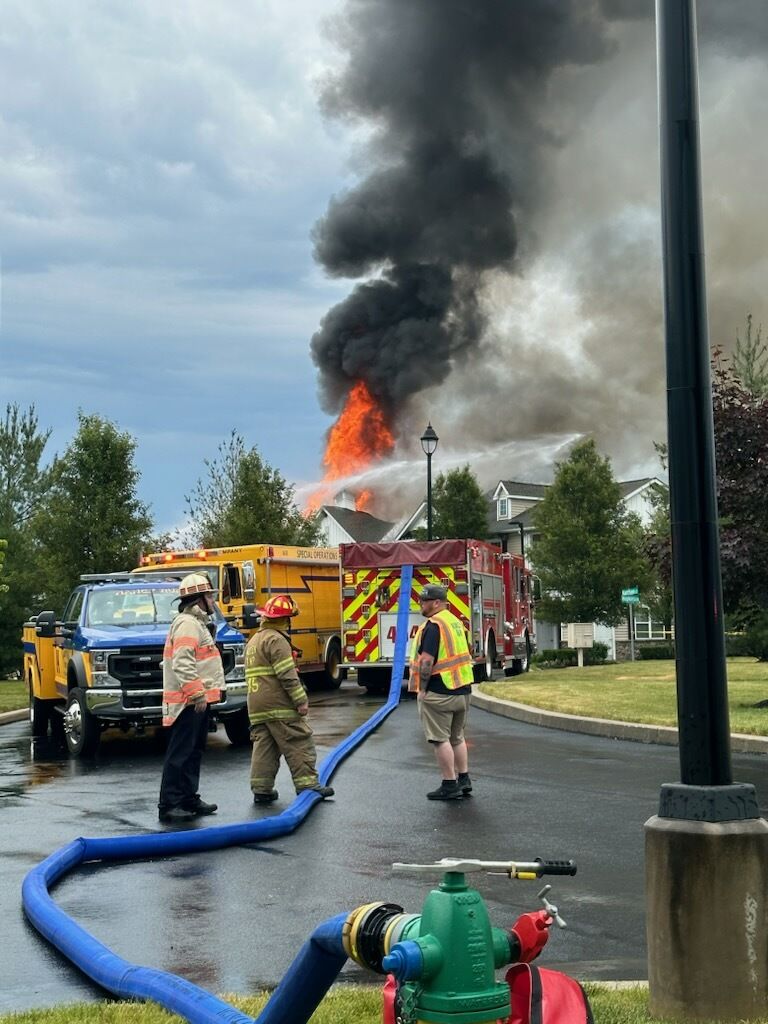 First on scene was Northampton Borough Fire Department with Allen Township Fire Company No. 1 arriving within minutes, followed shortly by Catasauqua Fire Department District 2 and North Catasauqua's Charotin Hose Co. No. 1.
As the fire blazed on and it became a multiple-alarm fire, fire departments such as East Allen Township Fire Department, Lehigh Township Volunteer Fire Co., Coplay Fire Department, Bath Volunteer Fire Department, Hanover Township Vol. Fire Co., Lower Nazareth Township's Hecktown Vol. Fire Co., Bethlehem Township's Nancy Run Fire Co., Bethlehem Township Vol. Fire Co., South Whitehall Township's Greenawalds Fire Co., Nazareth's Vigilance Hose Co. 1 No. 1, North Whitehall Township's Neffs Fire Co., Palmer Municipal Fire Department, Moore Township's Klecknersville Rangers Vol. Fire Co., and Walnutport Borough's Diamond Fire Co. came to assist, battling the fire for over four hours.
Paramedic Jeff Hoffman from Northampton Regional EMS divulged he was one of the first on the scene after Northampton Borough Fire Department and Allen Township Fire Department.
"Whoever was here on foot immediately like EMS, troopers and some of the firefighters, we went through every single apartment twice. We were able to get the people out, the dogs, and some of the cats, but we weren't able to find a few of the cats because some of them hid. The smoke was building up and police and EMS don't have air packs, so we had to come back out. Fortunately, all of the people are out and accounted for and most of the people weren't home when it happened," said Hoffman.
Allen Township Fire Chief Dale Hassler stated, "The fire raced across the entire roof of the structure. Northampton was the first to attack it and we laid the line down the hydrant to supply the water. But it was that far gone that you could see it as you were going down the road."
Hassler expressed the fire was up in the attic space of the building where there are no sprinklers due to the space being unheated, which is how the fire spread across the entire roof of the structure.
"To fight this type of fire, it requires aerial ladder trucks. There was little fire damage on the second and first floor, but the water cascaded down, and the roof collapsed in," Hassler added.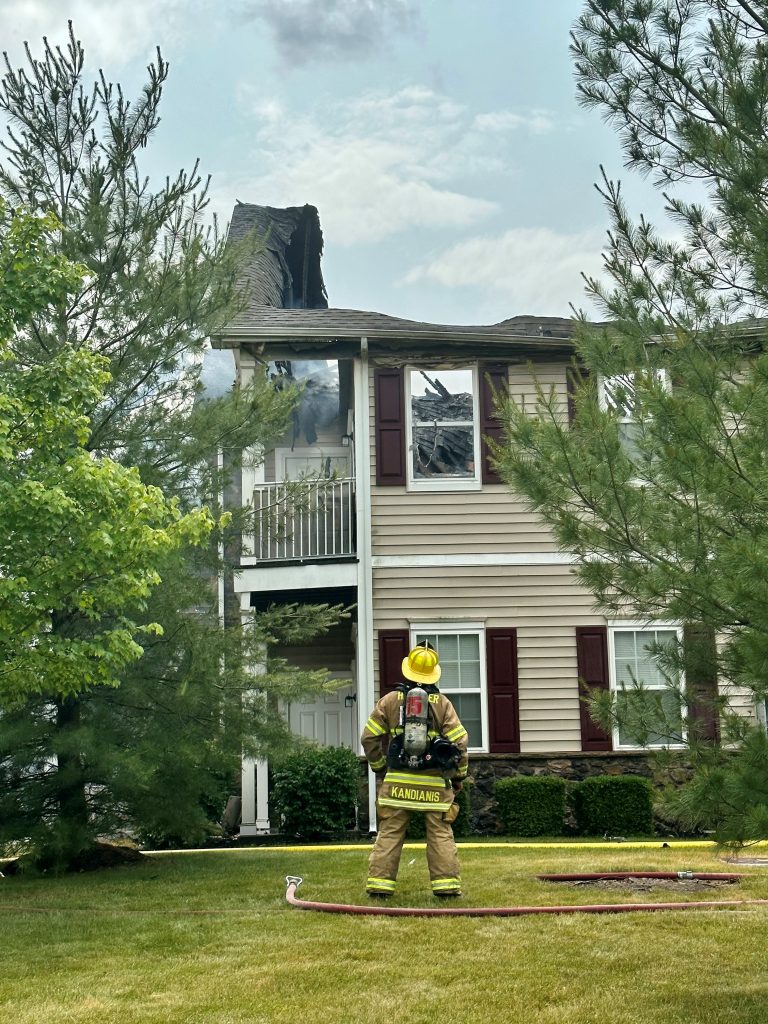 Resident Jillian Campbell shared she was at work in Bethlehem when she got the call from the apartment complex that the building she resides in was on fire, so she raced home to find that her three cats were not rescued in initial attempts by maintenance staff, firefighters, Pa. State Troopers and EMS.
"I don't care about the stuff inside. I just want my cats," Campbell sobbed.
Campbell watched and waited as firefighters battled the blaze, so she could search for her cats once the fire was put out, but was only able to find two of her cats.
With Campbell's three-month-old tuxedo cat Mavis still missing, neighbors are on the look-out to reunite her with her family. All other missing animals have been reunited with their families.
Weighknecht confirmed that due to the fire and water damage on both floors of the building, all 12 apartments are uninhabitable, which displaced 17 residents and their pets. The American Red Cross is assisting those affected by the fire.
Although residents and officials believe lightning to have caused the fire, the investigation is ongoing.