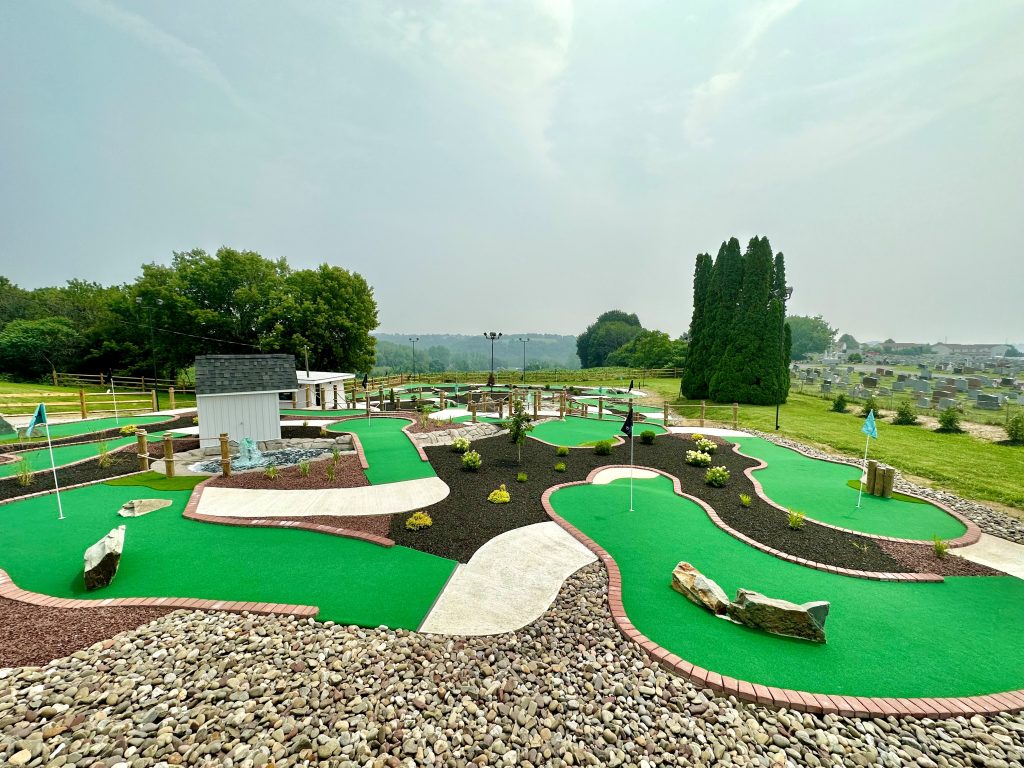 On Friday, June 30, Hillside Mini Golf & Ice Cream opened its doors to the public with an official grand opening and ribbon cutting ceremony.
The newly renovated miniature golf course was previously known as Hillside from 1959 to 2019 and has been one of the longest standing mini golf courses in the Lehigh Valley. The site also formerly shared its location with Rita's Italian Ice and Frozen Custard up until 2021 when they moved to Main Street in Northampton. 
In 2019, the new owners of Hillside Mini Golf & Ice Cream bought the location with dreams of redesigning with their own style and flair.
The site has been completely renovated with a unique and challenging 18-hole miniature golf course complete with a new layout, landscaping and water features, scenic views of the hillside it was named after, and a brand-new clubhouse that received both interior and exterior upgrades, including the newly renovated ice cream restaurant and spacious room in the back for events and birthday parties.
During the ribbon cutting ceremony, Manager of the Greater Northampton Area Chamber of Commerce Nicole Miles congratulated the owners, wishing their family many years of success.
"It's no small feat to do what you've done here; to renovate so thoroughly to knock everything down to the ground and build it back up again. We are sure it will come back to you in many ways—lots of years of prosperity and success, and we're grateful for the memories that you're going to bring to all these people who are standing with us today," proclaimed Miles.
Miles also shared that "Hillside is determined to give customers the best experience possible through the power of their team. Their leadership team is determined to offer world class experience to this community, give back to the local schools and foundations, and simply enjoy the moment one scoop and one putt at a time."
Additionally, during the ceremony, citations, proclamations and certificates of achievement were presented from Pa. State Rep. Zach Mako's office, U.S. Senator Bob Casey and Northampton County Executive Lamont McClure to Hillside's new owners.
Co-owner DJ Shetayh thanked everyone in attendance for coming to the ceremony and showing their support, as well as Hillside's staff for working hard over the last few weeks to help prepare for opening day.
"We would also like to thank the Hess family for the contributions made on behalf of Dorothy Hess for the renovations to the project. The Hess family was a huge part of the history here at Hillside; they were one of the original owners of the Hillside ice cream miniature golf course, so a very big thanks to them and their family," Shetayh shared.
Lastly, Shetayh also thanked his co-owners and extended family for their support during the process, which he explained was a "huge help."
"We know that there's been a lot of history here. We've gotten a lot of people just swinging by and sharing their history of what this place used to mean to them, and although we can't recreate those memories, we're hoping that you guys can create new ones with your families for the next 50 years or so," Shetayh expressed.
In addition to the newly designed mini golf course and clubhouse, the newly renovated ice cream restaurant will have ice cream, milkshakes, and unique treats such as their "knockback treats" available to patrons.
The ice cream restaurant will serve soft serve, as well as their unique and locally made ice cream flavors such as black cherry vanilla, bourbon peach, bubblegum, butter pecan, cherry cola, chocolate, chocolate raspberry, coconut, cookie dough, Cookie Monster, cookies and cream, cotton candy, lavender honey, lemon blueberry, lemon sorbet, mango, mint chocolate chip, moose tracks, morning rush, orange creamsicle, peanut butter xplosion, rocky road, sprinkle cake, strawberry, strawberry cheesecake, tandy cake, vanilla and watermelon sorbet.
They will also serve "Shakes at the Hill," such as chocolate delight, mint madness, crazy cake and cookie crash, as well as "Knockback Treats," which are 16 oz. floats made from two scoops of ice cream and choice of soda, including specials such as the konkrete krusher, morning rush, cotton clouds and rock'n root beer float.
Hillside will also serve sundaes that will include three scoops of your favorite ice cream plus three toppings of your choice, in addition to specials such as CMP, birthday bash, mint mania, brownie blast, monster mash and strawberry supreme.
Hillside Mini Golf & Ice Cream is located at 3219 Cherryville Rd. and will be open from 11 a.m. to 9 p.m. daily. Stop in for a family-fun game of mini golf and an ice cream treat at this better-than-ever, revamped course.